Basic Construction Site Safety
Construction workers have one of the most important – and dangerous – jobs in America. Construction sites are full of unavoidable hazards, such as falling debris, falling from heights and equipment accidents. However, workers can lessen their risks by following a few simple safety tips. However, even the most careful employee may end up injured on the job. Nashville workers compensation attorneys help injured workers obtain benefits for their medical care and lost wages.
What can construction workers do to protect themselves?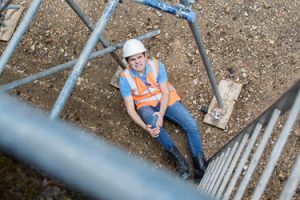 Workers who wish to protect themselves should observe basic construction site safety:
Pay attention to signage – Observe all safety signs, including traffic and road signage. Stick to marked passageways.
Wear safety gear – Hardhats, protective gloves, vests, boots and eye and ear protection are essential for construction workers. Wearing the right gear can prevent serious injuries.
Become trained – Make sure you are trained in how to use safety equipment, including harnesses and ropes.
Follow the rules – Site rules and regulations are designed to protect workers and managers. Observe all rules to ensure safety.
Report dangers – If you think your construction is dangerous or otherwise unsafe, tell a supervisor or higher authority.
Stay alert – Look out for falling debris, construction vehicles and other hazards. Be alert, attentive and aware of your surroundings.
Maintaining standards on a construction site
Employers have the legal obligation to provide a safe working environment that conforms to OSHA standards. Scaffolding needs to be securely fastened with safe access. Ladders should be secured to prevent slipping. Guardrails must be in place to prevent falls. Warning notices, safety equipment and medical resources should be readily available. Even if all safety standards are met, accidents still happen. If you have suffered a construction site injury, contact a Tennessee workers compensation attorney immediately.
If you're injured on a construction site, call our Nashville construction accident attorneys today
For years, the Rocky McElhaney Law Firm has been dedicated to obtaining compensation for injured victims. All workers injured on the job are entitled to workers compensation benefits. Call our Nashville construction accident lawyers now for a free consultation at 615-425-2500.