Tennessee Lawyer Fighting Back For Stryker Hip Implant Recall Victims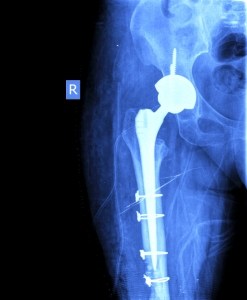 Stryker, one of the world's leading medical technology companies, which manufactures everything from surgical power tools to reconstructive hip and knee replacements to spinal implants, boasts an annual 8.7 billion in sales globally. The company is a leader in the science of biological robotics. The giant claims to bear a great deal of social responsibility in the way of creating innovation that heals and protects.   Yet, there have been several products which Stryker has manufactured that have caused harm and severe injury to the products' recipients.
On July 6, 2012, Styker began a voluntary recall of two of their (MoM) metal-on-metal devices, the Rejuvenate and the ABG II modular-neck hip replacement. These devices were released to the market in February of 2009. These two particular models found popularity with surgeons as they allowed the surgeon to adjust each device to personalize the fit of the implant to the anatomy and interventional needs of the recipient.
The voluntary recall went into effect after reports of blood poisoning and tissue damage caused by the corrosion of metal. High levels of metal toxicity in the blood can manifest causing abnormal levels of pain and swelling, localized tissue damage, damage to lymph nodes, spleen, liver kidneys, cardiac systems, nervous system and malignancy according to the FDA notice. The corrosion may even cause the device to completely fail, which can cause the bone around the implant to fracture as in this case of a Rejuvenate patient.
Since 2012, The Orthopaedic and Rehabilitation Devices Panel of U.S. Food and Drug Administration (FDA) has made significant noise on record regarding discouraging the use of metal-on-metal hip implants due to the growing number of adversely affected recipients whom have had the unfortunate fate of experiencing the devices' proneness to fretting, corrosion, deterioration, and further, the release of harmful metallics into the bloodstream.
Hearing this news can be scary especially if you have experienced some of the symptoms we've previously mentioned. If you've undergone a total hip replacement but you are not sure what kind you have, it's important to first contact your surgeon and find out what type of implant you have.  Specifically, if it is either the Rejuvenate or the AGB II hip implant.  Even if you are not experiencing any symptoms but have discovered that you have one of these implanted recalled devices, it is still important to reach out to one of our experienced attorneys as soon as possible to protect yourself and your family from potential future illness, medical bills, and pain and suffering.
You need an advocate in your corner. You need someone who understands the complexity of the laws surrounding product liability cases and these particular hip replacement recalls.  You need a lawyer that can and can lay things out for you in clear terms that you understand so you can make an informed choice how to proceed.
If you or a loved one has undergone a total hip replacement with a Stryker Rejuvenate or ABG II artificial hip, has already underwent a revision, is contemplating a revision, has had the device completely removed, or has experienced any of the symptoms or illnesses described above, contact the Rocky McElhaney Law Firm immediately. There is no obligation. We know the toll that an injury or illness can have on your life and your family.  At RML we fight to get our clients the deserving recoveries they need to back on their feet. We are here to help, call (615) 425-2500.