Auto Accidents Caused by Tire Separation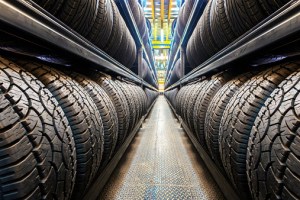 Due to the fact that your vehicles tires are the only thing between your vehicle and the ground on which it is traveling, your vehicles tires are one of the most important safety components. Because your tires, powered by the engine is what moves your vehicle from point A to point B, if one of the tires blows out because the tread separated from the tire it can cause significant injuries. When a tire fails it can cause the driver to lose control of the vehicle causing it to veer into oncoming traffic, or off the road into a ditch or into a parked car.
The National Highway Transportation Safety Administration (NHTSA) estimates that tire failures cause about 11,000 vehicle crashes each year in the U.S. Tread separation is one of the leading causes of tire failure along with under-inflated tires, and bald tires where the tread has been worn down.
Common causes of tire separation
There are several factors that ca lead to tire separation including the following:
Manufacturing defect
Errors in tire design
Excessive wear and tear
Over-inflation
Deferred maintenance
An example of a tire recall that is going on right now is the Bridgestone/Firestone North America Tire recall of the Firestone FR710 tires, and Champion Fuel Fighter tires, which are being recalled because of a manufacturing defect that produced inconsistent rubber coverage over the top of the steel plies. This inconsistent rubber coverage can cause tread separation, which can increase the risk of a crash.
Bridgestone will be notifying consumers and dealers and replacing the defective tires free of charge. However, there may be cases when a vehicle owner did not purchase the tires, such as what happens when you buy a used vehicle. Those owners may not be notified of the recall. In cases such as this, the NHTSA offers a free, interactive database that tracks recalls, investigations & complaints about defective tires and other motor vehicle parts and equipment. Visit Safercar.gov and enter the brand name, tire line and tire size and you will find out whether or not your tires are subject to a recall.
When the tread of a tire separates and cause the vehicle to crash the result can be serious injuries and even fatalities. If you have lost a loved one or suffered an injury in a car crash caused by tire separation, you may want to consult with a Tennessee auto accident attorney. If the tires that caused the crash were defective, your attorney may be able to file a products liability lawsuit in order to recover damages to compensate you for your injuries.
At the Rocky McElhaney Law Firm, we fight for our clients and their futures. We are experienced defective auto products lawyers who know how to get the job done. To schedule your free consultation with a member of our team in Nashville, Hendersonville or Knoxville, please call 615-425-2500 or fill out our contact form. Let our Gladiators in Suits fight for you!