Trampoline Parks Can Be Dangerous Places for Kids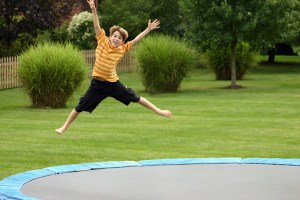 Remember when you were a kid, and you found out that one of your friends had a trampoline, or maybe your summer camp was going to spend a day bouncing around at a gym somewhere? Remember how happy you were at the idea of jumping in the air and doing tumbles or flips? Not much has changed for kids today, except the growing number of places where they can fly. There are trampoline parks springing up (no pun intended) all over Tennessee. Knoxville and Nashville each have two, and a quick search reveals almost a dozen more throughout the state.
We get it; trampolines are fun. But they can also be dangerous, as a new study reported by U.S. News & World Report points out. According to that study, "U.S. emergency rooms saw a 12-fold increase in the number of patients injured at trampoline parks — from 581 in 2010, to nearly 7,000 in 2014." The injuries reported include:
Broken bones
Sprains
Skull fractures
Neck fractures
The Foundation for Spinal Cord Injury Prevention, Care and Cure also warns of the potential risk of spinal cord injuries and traumatic brain injury, as well as paralysis and death. What started out as a fun trip to the trampoline park can lead to a parent's worst nightmare, so it is crucial that you teach your kids the right way to be safe while jumping.
Preventing injuries on trampolines
The easiest way to keep your child safe is to simply not let him or her go to a trampoline park, or play on a home trampoline (which, by and far, still leads to the most injuries). If you do want to let your child go to the park with friends, however, there are some ground rules you should demand he or she follows:
No tricks. Inexperienced jumpers can sustain severe injuries from trying to flip in the air or performing a somersault on the trampoline. Just because the Olympians in Rio can do it doesn't mean your child can.
No unsupervised play. No matter how old your child is, make sure there are responsible adults around to watch. If there doesn't seem to be enough employees or parents, stay in the park.
No large crowds. Too many people on a trampoline means an increased chance of being injured by another person. Make sure your child plays on an empty trampoline (if possible), or at least on a less crowded one, where everyone can take turns.
Wear protective gear. Helmets, knee or elbow pads, goggles ­– these are all good choices for jumpers. Teach your kids to treat trampolines like they would a skateboard, and wear the appropriate clothing.
Stick to the center. It's easy to bounce right off the side of a trampoline and into the net or the wall. It's also possible to injured your feet or ankles if you hit the sides, so instruct your kids to stay as close to the center as possible.
Be aware of other jumpers. Roughhousing in any form is a no-no, or course, but even accidental collision can lead to an injury. Keep smaller children off of trampolines with older or large kids (or adults), and make sure they know where their friends are located before they start jumping.
We absolutely understand the pull a trampoline can have on a kid; we felt it ourselves, long ago. We just want you and your children to be safe while having fun. If your child does sustain an injury at a trampoline park because of the negligence of the staff, or because of a broken, defective or dangerous trampoline, the Rocky McElhaney Law Firm may be able to help. Our experienced teams of personal injury lawyers in Nashville, Hendersonville, Clarksville and Knoxville will fight for justice for you and your children. To find out more, please call 615-425-2500, or use our contact form.
Related Content
Establishing Children's Bounce House Injury Claims- Who Has the Foothold?