Hidden Health Risks for Truck Drivers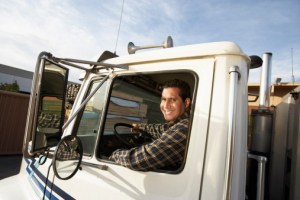 For truck drivers, there are certain dangerous health risks associated with the profession. Some are due to diet and others to the special requirements of the job itself — others may come as a complete shock to both truckers and individuals outside of the industry.
In 2013, 75% of the deaths in the trucking industry came as a result of traffic accidents and car crashes. Since truckers spend so much more time on the road than the average driver, they face added exposure to the dangers of the road. Plus, their large vehicles can be particularly hazardous.
Another not-so-obvious problem involves the handling, loading or unloading of cargo. Going from a high level of activity in the loading phase to long periods of sedentary driving could cause physical catastrophes. According to research, it could lead to strokes, depression, anxiety, and even certain cancers.
On-the-job eating and sleeping habits are of additional concern. A study in 2010 found over 69% of truck drivers had a BMI over 30, classified as 'obese'. The associated health issues, including diabetes, heart disease, and high cholesterol are exacerbated by the lack of easily available fresh, nutrient-rich foods on the road. The urge to drive further and rest less also presents problems. Lack of sleep can worsen chronic health conditions, lower metabolism and predispose drivers to unsafe driving practices. Cigarette smoking, alcohol use and illegal drug use are also an unfortunate epidemic within the trucking community.
The dangers for other drivers
The generally unhealthy nature of the trucking industry is worrisome to not only truck drivers themselves but to other people on the road. A sudden stroke, cardiac event or brain aneurysm can lead to a driver losing control of the vehicle and can cause an auto accident. Driver fatigue is prevalent in the trucking industry, and studies show it's just as dangerous as drunk driving. Additionally, an intoxicated or distracted trucker can also be a menace on the road.
Any injury resulting from a trucking accident can devastate your life, causing array of unanticipated financial difficulties. The hard-hitting Nashville truck accident lawyers at the Rocky McElhaney Law Firm are ready to fight for the compensation you need and deserve. Call one of our Gladiators in Suits today at 615.246.5549 or contact us to schedule your consultation in either our Nashville, Hendersonville or Knoxville office.