Graco Recalls 25,000 Child Car Seats with a Potentially Dangerous Defect. Are you Affected?
"The harness may not secure a child which may result in injury" stated the recall letter from Newell Brands and Graco regarding the NTHSA recall that went into effect on May 10, 2017 and was slowly leaked to consumers more than a month later by mail.
As seen below in the table, Graco Products Inc. (Graco) is recalling certain Graco My Ride 65 convertible child restraints, models 1871689, 1908152, 1813074, 1872691, 1853478, 1877535, 1813015, and 1794334.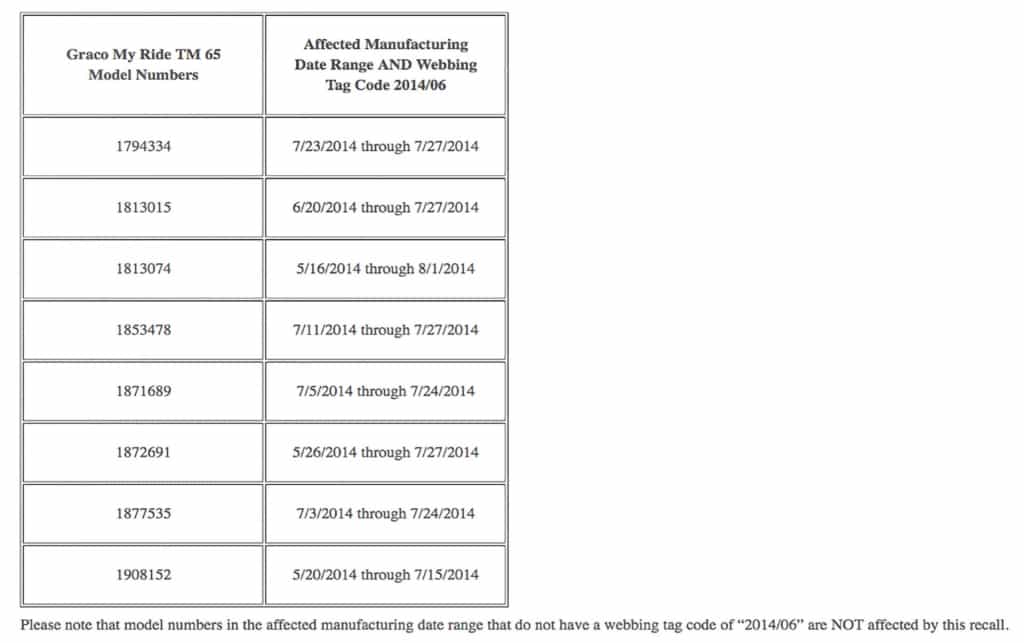 The issue lies in the harness's webbing which failed the breaking strength requirement.
If the weak and inadequate webbing restraint were to break or fail to properly restrain a child during a crash, even a minor collision, then that child could suffer serious, life-altering, and even fatal injuries.
These car seats fail to conform to Federal Motor Vehicle Safety Standard (FMVSS) No. 213, "Child Restraint Systems."
According to the NHTSA, Graco will contact consumers and provide replacement restraints starting July 17, 2017. Parents can call Graco at 1-800-345-4109 for more information.
How This Recall Hit Home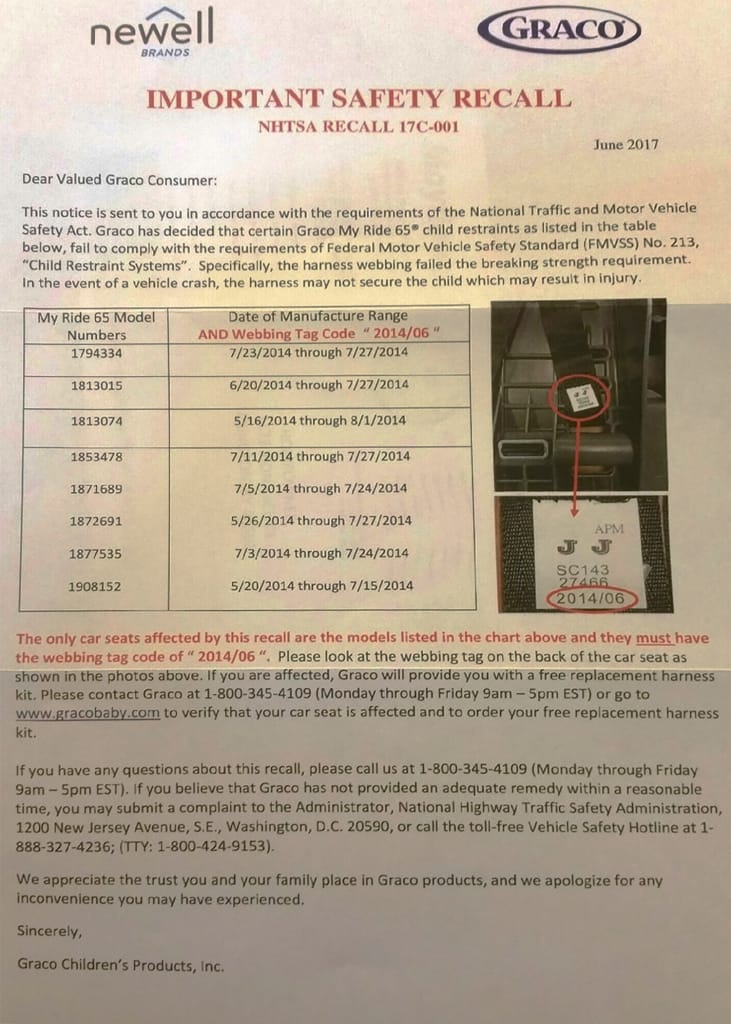 How This Recall Hit Home
"It's always an unsettling morning when the first piece of mail you open is a about a dangerous recall on a product you use frequently. Especially when it's on a product that you rely upon to safely carry your child from point A to point B. That's exactly what my poor mother experienced when she got this letter in the mail about the car seats she keeps for our kids when they come to visit her and my dad. 

Though it's scary, I'm thankful to receive letters like this. It means we're on Graco's radar. Though it doesn't mean that we'll always be 100% recall free or free from defective or dangerous products, it does mean at the very least that we're likely to be notified when there is an active recall on a product we own.

Many people own car seats and other products that aren't registered with the company that manufactured them. Growing up it was common practice in my family to just throw this stuff away along with the box. But there is good reason for it. This paperwork and/or instructions are usually inside the box upon purchase and should be filled out and sent back before beginning use of the product. It provides a record of your contact information to that manufacturer so you can get a letter like we did and not have to find out this information during your late-night Facebook scrolling, or perhaps a much worse fate— an injury or an exacerbated injury to your child due to Graco's faulty child restraint. To protect your precious cargo, it's worth taking the time to fill it out or go online and take care of it." – Penny McElhaney
You try to do everything right. You buy all the best things for your child. You take extra care to read all the directions and safety guidelines. The safety of your child and your future becomes your full-time job. Sadly, you can't protect them from what you can't see or what you don't know about. Greedy manufacturers often forego or sidestep federal guidelines and important safety measures in order to manufacturer more products quickly and for as little as possible. Sometimes this results in negligence during inspection or faulty/defective products that not only fail to serve their intended purpose but put real people in danger.
A car seat, defective vehicle parts, a dangerous toy, a faulty heater- really any product, however unassuming, can be turned into a weapon of destruction through a company's oversight. Corporations owe a duty to consumers to make safe products. Regardless of whether you receive a recall letter or not, if you or a loved have been injured or killed due to a defective product you could be eligible to make a financial recovery. We're here to help and answer your questions. We only work for real people, never the big companies that take them for granted. We fight for justice. We fight for you! Call us today (615) 425-2500.