Best Lawyer, Best Boss and Now, We're NBJ's 2018 Best Places to Work!
The results are in… the Rocky McElhaney Law Firm has been honored with the Nashville Business Journal's 2018 Best Places to Work Award in the Medium Company (25-99 employees) category. This is the fourth year that the firm has received this prestigious distinction and it surely won't be last with all of the amazing employee perks Rocky has planned for the upcoming year!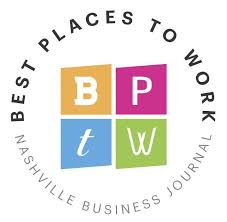 The Nashville Business Journal started the annual Best Places to Work awards 15 years ago.  Any company with at least 10 employees, which has an office in operation within the 10-county Nashville area, can be nominated by the public. Then, the employees themselves have to fill out a lengthy, anonymous survey conducted by Quantum Workplace, an unaffiliated a third-party data research company.  According to the website, employers are evaluated on the following criteria: "The employee survey measures 10 key engagement categories, including team effectiveness, trust in senior leaders and manager effectiveness. Responses from each question of each completed survey are compiled and evalu
ated. Companies are ranked, and winners are chosen in each size category by their overall composite score."
The 4-time Nashville Scene, Best Lawyer in Nashville winner and firm founder, Rocky McElhaney, knows something about raising the bar and always being a cut above the rest.  "Best is not a term freely given, it's something that's earned," says McElhaney.  Since RML's doors opened in 2006 and well before all of Rocky's and the firm's success, he set out to always put his employees first.  He wanted to be the best employer before anything else.  "Everything you put out there comes full circle.  When employees feel valued, appreciated and empowered they pay that forward to our clients.  I try to give my employees the best benefits, the best tools for the job, the best bonuses, more paid days off than other workplaces, and we try to continually throw events throughout the year celebrating our success as a team and how far we've come in our mission of helping people across Tennessee."
Touched by the overwhelmingly high scores and positive reception awarded to the firm by the anonymous employee surveys, Rocky said, "As the boss, earning this award year after year has been humbling because I get to see how treating employees well really makes a difference in their lives and the lives of our clients."
What Kind of Benefits are We Talking About?
The Rocky McElhaney Law Firm boasts some out-of-this world benefits that make its employees feel right at home, like:
A beautiful and modern, "Google-esque," state-of-the-art complex in Hendersonville which dons 3 conference rooms, a work café, a break-out area, a media room, a mock trial room/event room, 7 bathrooms, and a grand stair case that makes you feel like Scarlet O'Hara as you descend it every day.
3 other Nashville offices and an office in Knoxville to meet your needs and the needs of our clients;
Private employee work areas and offices equipped with 3 monitors each to provide employees with the maximum digital canvas they need to maximize their production;
A paperless office that makes use of the latest technology and gear to make employees' days run more smoothly while producing quicker results for our clients;
Competitive salaries and unheard of annual performance-based bonuses for legal professionals and attorneys
Nearly 4 weeks holiday paid time off in addition to paid vacation time;
Flex-time that allows employees to bend and flex with the hurdles of life as long as they put in their time for our clients;
The Stealing Days campaign:  Offering employees the chance to steal back one paid Friday off every month;
Matching 401K, Employer-paid health insurance, employer-paid long-term disability benefits, and highly discounted rates on short-term disability;
An unmatched paid maternity leave package and an additional extended unpaid leave package;
Free membership to 2 boutique fitness establishments to utilize before and after work and during the lunch hour;
A teamwork-centered atmosphere rooted in family and supporting each other's professional goals;
A more relaxed dress code than other law firms;
Several scheduled team building events to inspire and invigorate employees throughout the year like our annual Cold Weather Cookout, Build-Your-Own Sandwich Day, Administrative Professionals' Day Out, exclusive attorney enrichment events and CLEs; and
The opportunity to work and learn from the best of the best, trial great, Rocky McElhaney and our other dedicated and experienced attorneys and professionals!
Stacked against any other employer- it's simply hard to compare with Rocky McElhaney Law Firm!  If you have what it takes and you're thinking about making a switch to one of Nashville's Best Places to Work, visit our career page by clicking here.  And congrats again, to Rocky and the RML team taking home another benchmark distinction!