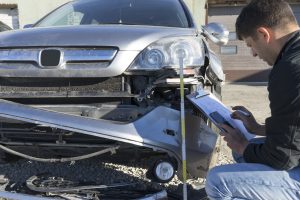 If you have been in a car accident, you know that it isn't always easy to determine who is at-fault. Because Tennessee has a system of modified comparative negligence, an injury victim who is found to be 50% (or more) at-fault for an accident may be barred from recovering damages. Therefore, it is critical that your attorney presents evidence that supports your right to compensation. It is the job of the accident reconstruction experts to answer questions about the crash, so that investigators can determine fault and obtain other information about what was happening at the moment of collision.
In an article for Plaintiff Magazine, forensic engineer Kurt Weiss describes accident reconstruction: "Accident reconstruction is the process of using scientific methodology to determine the circumstances, mechanics, and contributing factors associated with a collision. This work requires the disciplines of physics, vehicle dynamics, mathematics, photogrammetry, computer simulated modeling tools and other tools." Accident reconstruction experts can help determine the speed the vehicles were traveling, how the crash might have been avoided, and what traffic laws might have been violated.
Old school methods of crash reconstruction
Today we have access to simulated computer models and drones which can map the accident scene from above, but there is a rudimentary method of figuring out how fast a driver was driving which uses Newton's Laws of Motion. An article in Physics Central describes how Newton's laws govern how forces act on an object, like a car, and influence its motion. It allows the police to determine how fast a vehicle would have had to be going when the driver hit the brakes for skid marks to be a specific length. The article also talks about how reconstructionists weigh the vehicles involved in the collision, map the debris field, and take thousands of pictures.
The article describes how a reconstruction expert was called upon to use physics to model an accident. The expert needed to convince a jury that a drunk driver acted so recklessly that he should have known that he could kill someone. The trial will depend on Newton's Law of Motion and accurate data from law enforcement.
How do "black boxes" figure in reconstructing a crash?
Since the 1990s, the gadgets commonly referred to as "black boxes" (even data recorders, or EDRs) track a vehicle's speed, whether seat belts were worn, when the driver applied the brakes and other bits of data. EDRs were made mandatory in new vehicles in 2014. A GovTech article reports that EDRs preserve data that trained crash investigators struggle to capture. The National Highway Transportation Safety Administration (NHTSA) reports that recorders help make vehicles and roadways safer by helping organizations better understand how drivers react and how key safety systems operate in a crash.
When you might require an accident reconstruction expert
An accident reconstruction expert is not required for every car accident. There are certain situations where an accident reconstruction expert's contribution will be critical:
There were no eyewitnesses to the crash
You have no memory of what happened
There were catastrophic injuries and fatalities
The vehicles involved have been destroyed beyond recognition
There is a need to determine other bits of evidence
The skilled Nashville car accident attorneys at the Rocky McElhaney Law Firm often work with accident reconstruction experts to help determine fault in a car crash. If you have been injured in a car crash, let our Nashville car crash lawyers fight for you. Call us at 615-425-2500, or fill out our contact form today. We maintain offices in Nashville, Hendersonville and Knoxville, and represent clients throughout the state.
Nashville personal injury attorney Rocky McElhaney represents people who have been injured in car, truck and other automobile accidents as well as many other forms of negligence throughout the state of Tennessee.