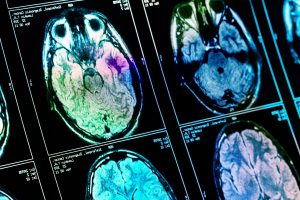 The U.S. Centers for Disease Control and Prevention (CDC) define traumatic brain injury as, "an injury that disrupts the normal function of the brain. It can be caused by a bump, blow or jolt to the head or a penetrating head injury." Traumatic brain injury can be caused by motor vehicle crashes, acts of violence, falls, and military combat experiences, among many other reasons.
Post-traumatic stress disorder (PTSD) is defined as a "psychiatric disorder that can occur in people who have experienced or witnessed a traumatic event such as a natural disaster, a serious accident, a terrorist act, war/combat, rape or other violent personal assault," by the American Psychiatric Association. After the traumatic event, it is common to have flashbacks of upsetting memories of the event, which can lead to feelings of depression, anxiety, fear, or anger. While the condition is usually associated with military servicepeople, the APA reports that approximately 3.5% of adults in the U.S. have the condition, and that about 1 in 11 people will be diagnosed in their lifetimes.
Suffering from either condition can be challenging, but when a person has both TBI and PTSD, managing both conditions can be difficult and confusing.
The science behind diagnosing the conditions
An article in Healthline reports on a study published in PLOS One about how medical professionals can tell TBI and PTSD apart by using brain scan. The authors of the study scanned the brains of 20,000 people. Some of these people had TBI, some had PTSD, some had both conditions, and some had neither condition. The researchers scanned the brains using single-photon emission computer tomography (SPECT), which is an imaging technique that measures blood flow in specific regions of the brain. While the symptoms of PTSD and TBI are similar, the researchers discovered that brain scans of these conditions do not look anything alike.
The TBI patients showed decreased brain activity in the regions of the brain that govern self-control, mood, behavior, memory formation and coordinated movement. The PTSD patients showed increased brain activity in brain regions involved in fear processing, emotional regulation, sensory processing and integration of information.
The researchers were able to accurately determine which of the research subjects had TBI or PTSD with 100% accuracy using computer-driven analysis. When they analyzed the tests visually, they were only 89% accurate.
Potential complications from TBI and PTSD
People with TBI and PTSD can be at an increased risk for many health conditions such as:
Depression
Substance abuse
Physical injuries
Sleep problems.
Memory problems and amnesia
Unwanted, intrusive thoughts
Hyper-vigilance
Night sweats
Emotional problems
Numbness or deadened feelings
Depression
Fatigue
Isolation
Anxiety
Trauma
People dealing with TBI and PTSD can be at an increased risk of substance abuse, and they are often at higher risk for suicide. Dealing with these two conditions together is also challenging for family members and friends who do not understand the changes in the injured person's behavior. Seeking help from licensed counselors or doctors is a good first step for loved ones and caretakers who are supporting someone with TBI or PTSD.
Your experienced Nashville TBI attorney understands the importance of getting the best treatment after an injury caused by someone else's negligence. We are here to protect your rights and to fight for the maximum compensation for you.
At Rocky McElhaney Law Firm, we provide compassionate but practical counsel for the injured throughout Tennessee. Our Gladiators in Suits are here to get you the help you need, and fight for the compensation you deserve. You can reach us at 615-246-5549, or schedule a free consultation in Nashville, Hendersonville, or Knoxville by completing our contact form.
Nashville personal injury attorney Rocky McElhaney represents people who have been injured in car, truck and other automobile accidents as well as many other forms of negligence throughout the state of Tennessee.