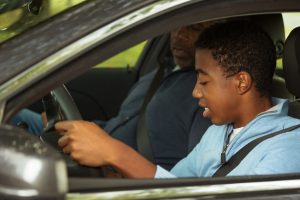 Teen drivers are novice drivers. The have a higher rate of traffic fatalities because of their lack of driving experience and driving skills. Teen drivers often make reckless decisions: they speed, and they are easily distracted. Even your smart, responsible child who gets excellent grades can make mistakes when he or she starts driving. It is the parents' responsibility to make sure that their teen drivers are properly trained and get enough supervised practice time with an experienced adult driver.
Many teen driving accidents can be prevented if we teach young drivers to be safe. We've created a list of the biggest risks to teen drivers in Tennessee, so you can build a plan to help your kids stay safe.
What are the top 5 hazards teen drivers face?
The Centers for Disease Control and Prevention (CDC) reports:
"In 2016, 2,433 teens in the United States ages 16–19 were killed and 292,742 were treated in emergency departments for injuries suffered in motor vehicle crashes. That means that six teens ages 16–19 died every day due to motor vehicle crashes and hundreds more were injured.
In 2016, young people ages 15-19 represented 6.5% of the U.S. population. However, they accounted for an estimated $13.6 billion (8.4%) of the total costs of motor vehicle injuries."
What caused these terrible tragedies?
The CDC reports that teens are more likely than older drivers to speed and follow the car in front of them too closely. Among male drivers between 15-20 who were involved in fatal crashes, 32% were speeding at the time of the crash.
Drinking and drugs. Drunk or drugged driving is illegal for all drivers, and drinking under the age of 21 is also illegal. The CDC reports that teens are more likely than anyone else to be killed in an alcohol-related crash. About one out of five teed drivers involved in a fatal crash in 2016 had been drinking.
The inexperience of teen drivers makes them more prone to distraction when they are driving. The NHTSA reports that one in three teens admit to texting while driving. Talk-to-text removes the driver's focus from the task of driving, but other distractions for teen drivers include eating, applying makeup, changing the radio or the other passengers in the vehicle.
The National Safety Council (NSC) reports that teen drivers crash more often because they are inexperienced, they have more difficulty judging gaps in traffic, turning safely and driving the right speed for road conditions.
Wearing their seat belts. The NHTSA reports that seat belt use is lowest among teen drivers. Most teens involved in fatal crashed were unbuckled. In 2016, 181 teens between the ages of 15-18 and 569 passengers died in vehicles driven by teen drivers, and 58% of those passengers were not wearing seat belts.
Preventing teen traffic crashes
Parents can enforce safety guidelines issued by the NHTSA and Tennessee law, which include:
No cell phone use while driving
No extra passengers in the car
No speeding – obey speed limits and drive at an appropriate speed for traffic conditions
No drinking or drugs
No driving without a seat belt, and no passengers ride without wearing a seat belt
Tennessee's graduated driver's license program at a glance
Tennessee offers a graduated driver's license (GDL) program aimed at helping new drivers develop the skills they need to be good, safe drivers. The following is a rough outline of Tennessee's GDL program:
Step One: Learner's Permit
In Tennessee, a 15-year-old can take a test at the Department of Motor Vehicles and receive a learner's permit.
At age 16, the learner's permit holder must have logged 50 hours of supervised driving time, 10 of which must be at night with a licensed driver over age 21 in the front passenger seat.
Step Two: Intermediate restricted license
The next step is the road test. If the novice driver passes the road test, he or she will be issued the intermediate restricted license. The new driver is no longer required to be supervised, but he or she will still have some restrictions, such as not being allowed to drive between the hours of 11pm and 6am, and not with more than one passenger under the age of 18, unless also accompanied by an adult licensed driver over age 21.
Step Three: Intermediate unrestricted license
After a year of safe driving, and with parental permission, the driver can receive an unrestricted intermediate license. Once the driver turns 18, the GDL restrictions will be lifted and the new driver is eligible for a Class D driver's license.
If you, your teen, or someone else you care about has been injured in a crash, the experienced Nashville car accident attorneys from the Rocky McElhaney Law Firm are ready to fight for you. To schedule a free consultation with a member of our team, please call 615-246-5549 or fill out our contact form to schedule a free consultation. We have offices in Nashville, Hendersonville, and Knoxville, but we fight for the injured throughout Tennessee.
Nashville personal injury attorney Rocky McElhaney represents people who have been injured in car, truck and other automobile accidents as well as many other forms of negligence throughout the state of Tennessee.