In a recent court battle, Rocky McElhaney, our founder and lead attorney, had another big win against Hughes & Coleman law firm, a large, multi-state personal injury firm convicted in August 2018 of employing a marketing internet scam to steal potential clients from our firm. Hughes & Coleman ignored Chancellor C.K. Smith's later order to provide Rocky with personal financial information related to Rocky's claim. As a result, on July 31, 2019, Chancellor Smith found Hughes & Coleman to be in contempt of court and ordered them to pay over $10,000 in sanctions to Rocky McElhaney. Rocky's July 31st win comes on the heels of a May 23rd ruling of the appellate court dismissing Hughes & Coleman's appeal of Chancellor Smith's earlier ruling in the name rights case.
What is the lawsuit about?
In his lawsuit, Rocky explained that Hughes & Coleman were placing bids on Google AdWords (Google's advertising system) associated with Rocky's brand. When web visitors typed "Rocky McElhaney Law Firm" into Google search on their phone or any other mobile device, a banner would pop up at the top with the Rocky's name on it. However, when they clicked on that banner, instead of going to the Rocky McElhaney Law Firm website, they would be redirected to a landing page for Hughes & Coleman. Once there, they'd find a telephone number that, when dialed, would ring the Hughes & Coleman office.
It looked like this: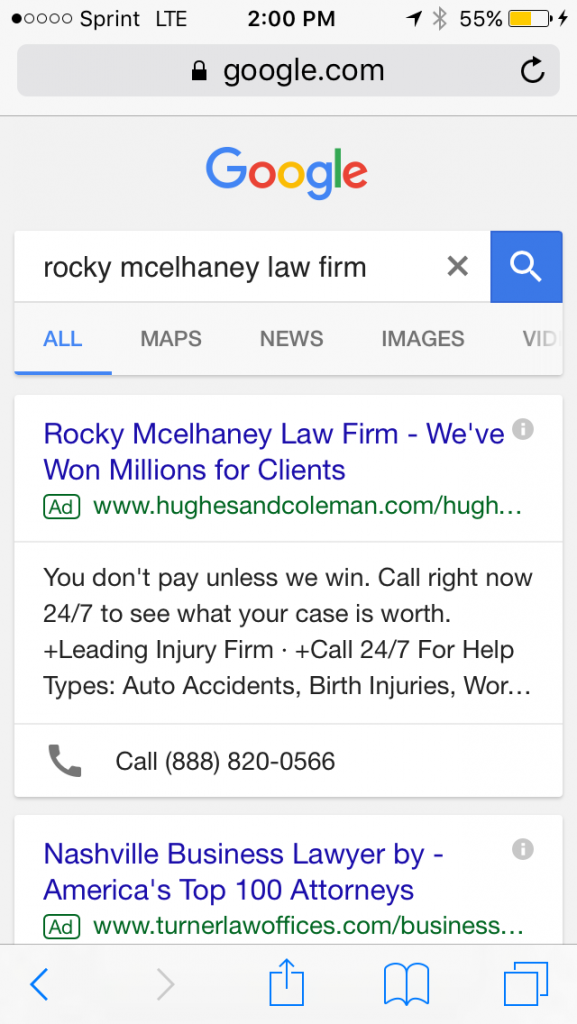 Another win for Rocky, another loss for Hughes & Coleman
This case has been going on for some time.  In August of 2018, Chancellor Smith ruled in favor of Rocky McElhaney's suit, saying the scam was a violation of the Tennessee Personal Rights Protection Act. Under that law, "every individual has a property right in the use of that person's name, photograph, or likeness in any medium in any manner."
He also ruled Hughes & Coleman were required to provide Rocky with personal, financial information relevant to Rocky's claim for punitive damages. (Punitive damages are an award used to punish egregious acts of wrongdoing, and to deter future acts.) Instead of accepting the loss gracefully and abiding by the Judge's ruling, Hughes & Coleman chose to appeal. Their appeal was dismissed by the appellate court in May of 2019.
Furthermore, Hughes & Coleman continued to ignore Chancellor's Smith's ruling requiring them to share their financial information with Rocky. In response, Rocky filed a motion against the firm. Once again, Chancellor Smith ruled in favor of Rocky. During the hearing, Chancellor Smith said, "I'll put [them] in jail if you want them to go." Rocky, of course, said no to the offer.
"You can't buy a good reputation; you must earn it" —  Harvey Mackay
At Rocky McElhaney Law Firm, we've worked hard to earn our reputation for honesty, integrity, and dedication to fighting for our clients.
We didn't buy our honors and accolades.
We didn't cheat our way to success.
We didn't break the rules to get to the top.
We fought for it. We work for it. We do everything in our power to make sure Rocky McElhaney Law Firm clients are satisfied, and that justice is served.
When someone else uses our name and our reputation to build their own business…that's a problem. Not only is it immoral, unfair, and unethical – it's illegal, too.
Our mission has always been to fight for the rights of injured people. We fight for families whose lives have been turned upside down by catastrophic injuries. We are humbled by the trust the community has placed in us over the years, and that's why we never stop fighting for you.
We thank you for your support.
Nashville personal injury attorney Rocky McElhaney represents people who have been injured in car, truck and other automobile accidents as well as many other forms of negligence throughout the state of Tennessee.