AMA Pushes for Ban on E-cigs and Vaping Products
On Nov. 19, the American Medical Association (AMA) announced its policy goal for an immediate and total ban on all types of vaping and e-cigarette devices not approved by the Food and Drug Administration (FDA) as cessation tools. The organization embraced a comprehensive position at its policy gathering in San Diego, CA. The group stated its intention to lobby for federal and state regulations, laws, and/or legal efforts to make the ban a reality. However, the vaping industry is certainly poised to resist these efforts.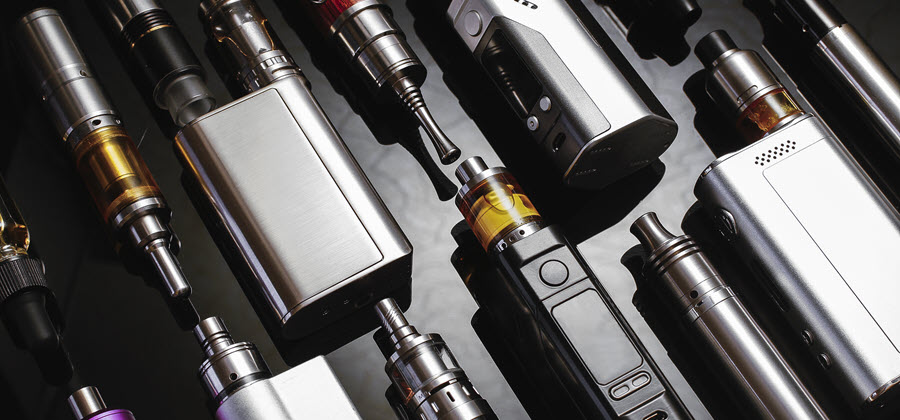 New AMA policy agenda on vaping products
The AMA's new policies include:
"Urgently advocate for regulatory, legislative, and/or legal action at the federal and/or state levels to ban the sale and distribution of all e-cigarette and vaping products, with the exception of those approved by the FDA for tobacco cessation purposes and made available by prescription only;
Advocate for research funding to study the safety and effectiveness of e-cigarette and vaping products for tobacco cessation purposes;
Call for immediate and thorough study of the use of pharmacologic and non-pharmacologic treatment strategies for tobacco use disorder and nicotine dependence resulting from the use of non-combustible and combustible tobacco products in populations under the age of 18;
Actively collaborate with health care professionals, particularly pharmacists and other health care team members, to persuade retail pharmacies to immediately cease sales of tobacco products; and
Advocate for diagnostic codes for e-cigarette and vaping associated illnesses, including pulmonary toxicity."
In conjunction with the development and pronouncement of its new policy objectives, the AMA referenced a dramatic increase in underage teen e-cigarette use. These products typically contain a solution that includes nicotine and which is heated when used.
According to Dr. Patrice Harris, president of the AMA, "It's simple: We must keep nicotine products out of the hands of young people."
THC and vitamin E acetate are the potential culprits
The AMA referenced a separate national health concern that also motivated its new actions – the recent eruption and spread of lung illnesses associated with vaping activities. The majority of those who have fallen ill have stated they vaped THC, the ingredient in marijuana (not nicotine) that causes one to experience psychoactive symptoms – in other words, a "high." Some officials believe the culprit is a thickening agent in the THC vaping product black market.
The combination of vitamin E acetate in THC may be responsible for the national outbreak of e-cigarette related lung injuries that are connected to several dozen deaths in the U.S. – this, according to Centers for Disease Control and Prevention (CDC) officials.
The CDC tested 29 different samples, which were submitted by 10 different states. The main psychoactive component of the cannabis plant, THC (tetrahydrocannabinol), or its metabolites were found in 23 of the patients.
According to Harris, the outbreak of vaping-related illnesses has "shined a light on the fact that we have very little evidence about the short-term and long-term health consequences of e-cigarettes and vaping products." Some 2,100 people have fallen sick from the use of vaping products and 42 have died.
In the past, the AMA has pursued bans on advertisements for e- cigarettes and e-cigarette flavors. The current policy of the AMA calls for a ban on vaping products that have not been approved by the FDA to help people quit smoking. However, the FDA has yet to review or approve any such products.
The Nashville product liability attorneys at Rocky McElhaney Law Firm are here to help if you or a loved one has come down with an illness or sustained an injury as a result of using an e-cigarette or vaping product. We are the trusted advocates you need on your side to fight for the justice and compensation you deserve. To arrange a free case review at one of our law offices in Nashville, Hendersonville, or Knoxville, give us a call today at 615.425.2500 or use our contact form.