Young 82-Year-Old Car Wreck Victim Finds Hope in Rocky McElhaney Law Firm
Here's Why This Recovery is This Week's Settlement of the Week: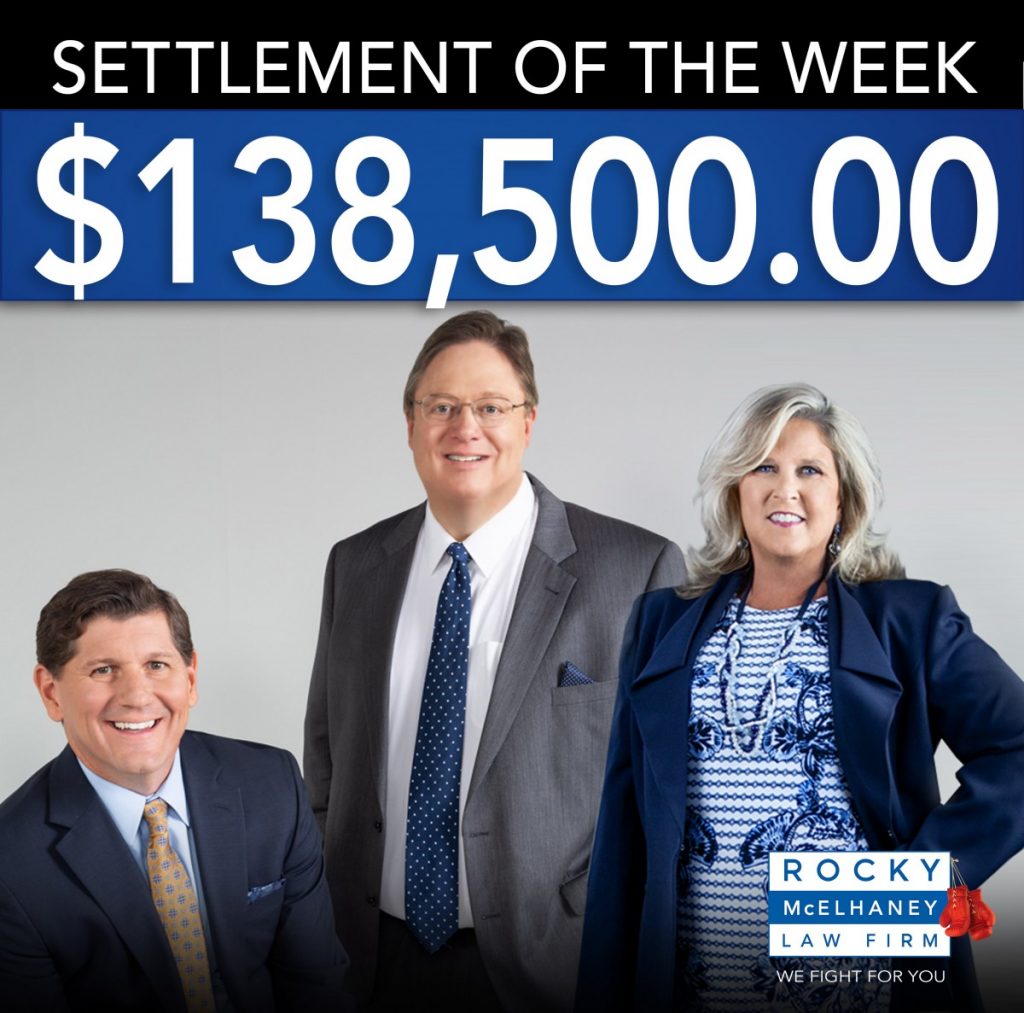 It's an awesome story!  Our sweet client is now over 82 years old (80 at the time of the accident).  She was still working as a nurse at a surgery center.  Her husband was a doctor and had recently passed away.   For many years, the couple worked side by side.  These two are salt of the earth type-folks that have made Hendersonville, Tennessee their home for over 60 years.
One day, while on the job, after taking a patient out to his car in a wheelchair, our client began pushing the empty chair back inside the surgery center. A woman was backing out of a parking spot and hit her. Our client sustained a nasty cut on her leg and a head injury that ended up causing her a great deal of vertigo, as well as balance and vision issues that had a devastating affect on her day to day life. The medical bills she accumulated were just over $53,000.00. She also had lost wages because she couldn't work as many hours after the accident as she had before.
A difficult case calls for a detail-oriented legal team
Latent brain injury symptoms as a result of a car wreck can be hard to document and hard to prove. Dedicated Rocky McElhaney Law Firm Paralegal, Mary Howden, and Attorney, Patrick Kilgore worked diligently to build a strong case for our client and to ensure that there were no holes in our medical proof (proof of injury) that would give the insurance company the upper hand.  That's where having the perspective of an experienced trial attorney in your corner becomes extremely valuable in helping secure the maximum results.
It was determined that the defendant's liability policy limits were $100K.
After a hard-fought day-long video conference mediation, Patrick was able to settle our client's claim for $138,500, obtaining policy limits from the defendant's insurance, and collecting an additional $38,500 from our client's uninsured motorist coverage (UM).
We were able to do more for this client because she protected herself first —purchasing appropriate amounts of UM coverage in advance of the unexpected.
Everything can change in moment.  This is why it pays to ensure you have appropriate uninsured motorist limits on your auto insurance policy, folks!  While you're quarantined at home through April, now is the time to take care of things you've been meaning to get to – like reading and understanding your auto insurance policy or making what could be, life-changing adjustments to your coverage.  You should always buy as much UM and UIM (under-insured motorist coverage) coverage as you can afford.  This type of coverage protects you and your family if someone hits you that doesn't have car insurance or doesn't carry enough insurance to cover all of your damages in the event of a wreck (like in our client's case above).  To learn more about UM coverage and what amounts you should carry, click here.
We're are so grateful that our client called us and not some other firm.  Many other personal injury law firms out there would not have fought as hard to make things right or truly battle for the extra dollars our client deserved to enjoy her golden years with more peace of mind and security.  We consider it a gift to be able to help great folks like this hard-working, beautiful soul.
Not unlike this very uncertain time in history, life takes us all in unexpected directions and down many dark roads.  One minute, you think you're doing great and the next you've suffered a serious injury, you're not working, you're destitute and unsure of which way is forward.   In that darkness, it's hard to know who you can count on.  We hope that if you're in that position, you'll find stories like this one reassuring and find hope in a call to our firm.  We're here to help.  We fight for you!
Feel free to reach out to the highly specialized team of lawyers at Rocky McElhaney Law Firm 24/7 at 615-239-0119 or fill out our contact form.  Don't settle for less.