When Will Each Phase of the "Roadmap to Reopening Nashville" Begin?  
If Tennessee's Safer-at-Home Order is not extended, it will expire on April 30. If COVID data continues to reflect a downward trend in new cases at that time, Mayor John Cooper may initiate Phase 1 of his four-phase "roadmap" to reopen the city of Nashville. This means that while still living amidst the ongoing threat of a COVID-19 re-outbreak, Music City will attempt to begin its unprecedented economic recovery and Nashville's historic return to its "new normal."   
So what reopens when?
In a press release last week, the Mayor said,
"The plan is 'data-driven, not date-driven'."
That said, there is no specific date planned to begin reopening the city, just yet. However, under a hypothetical scenario, if Phase 1 were to begin May 1 and each 14-day period continued to show virus decline and other various positive virus metrics this would mean that: 
Phase 1 would take place between May 1 -May 14
(hypothetically)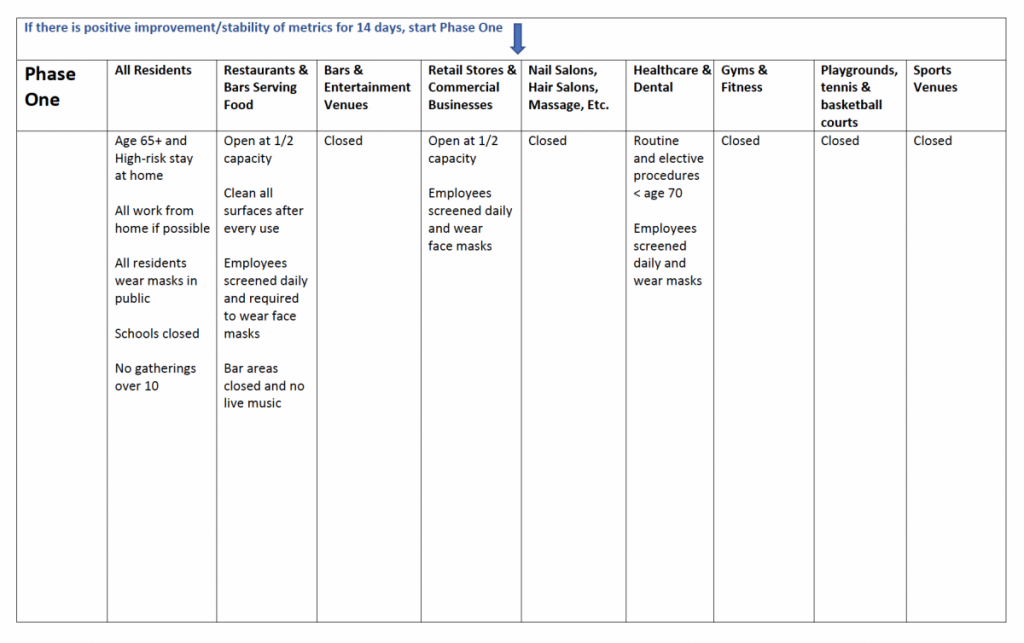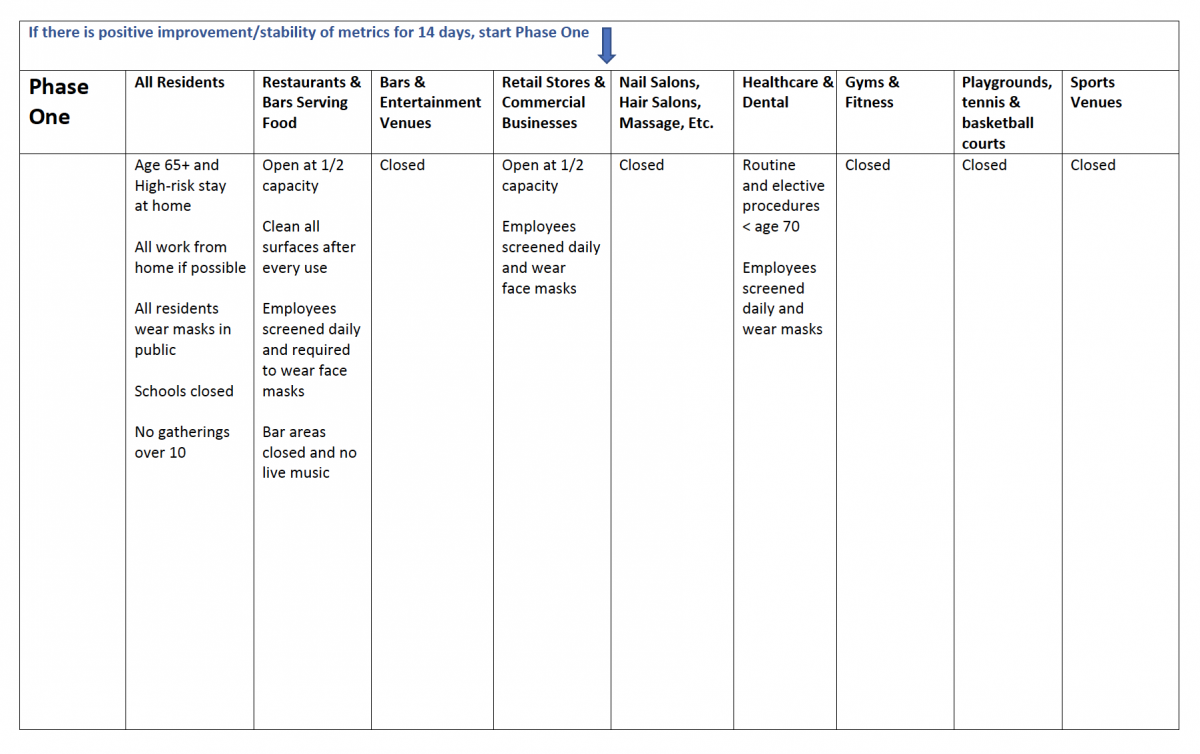 Phase 2 would take place between May 15 – May 28
(hypothetically)

Phase 3 would take place between May 29 – June 1
(hypothetically)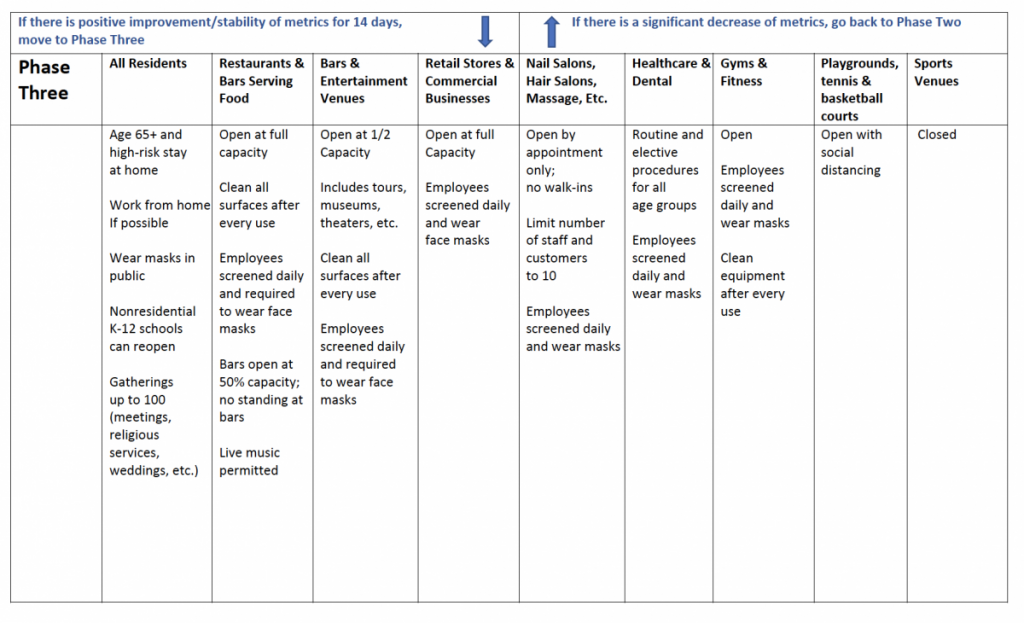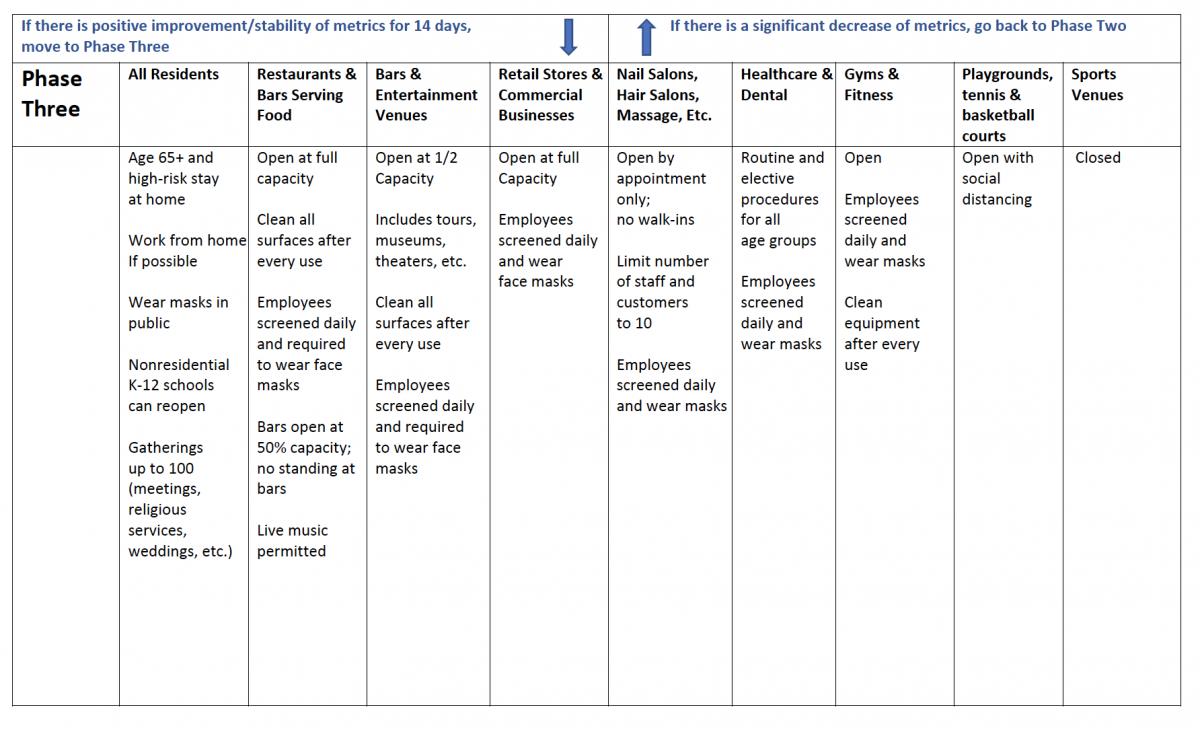 Phase 4 would take place between June 12 – June 25
(hypothetically)

But hold onto your homesteads! 
The dates above may be far from realistic. Please note that the above time periods are strictly hypothetical and based on a near error-free mix of many factors.  
For each phase to yield the best possible outcome for preventing the spread of COVID-19 and helping the Nashville community at large return to their lives as they knew them, experts need to see: 
A continual downward trend in cases

Adequate testing and PPE for our region

Robust health infrastructure to conduct contact tracing investigations throughout Nashville

No backsliding/virus spiking
During Phase 1, the Mayor advises that individuals: 
Over 65 should remain at home

Individuals should continue to work from home whenever possible

Individuals should continue to wear masks in public

Individuals should continue to avoid gatherings over 10 people
If various metrics continue on a positive incline after 14 days Nashville will transition to Phase 2. If after 14 days Phase 1 yields a significant increase in the number of cases and a positive increase in other metrics, the Safer-at-Home Order can be re-instated to protect Nashville from further re-outbreak or relapse of the virus.
---
The team at Rocky McElhaney Law Firm continues to work for the citizens of Tennessee during these uncertain times. While we take our first steps as a nation to heal from this terrible crisis, our hope is that all businesses and workplaces recognize their duty to fully adhere to federal, state, and local guidelines to protect you and your family from further infection and outbreak for as long as necessary.  If you have questions or would like to speak with one of our dedicated attorneys, please call us today at 615-239-5331 or fill out our contact form.  We fight for you.
For more information on monitoring the spread of the coronavirus on a global basis, you can visit the CDC and the World Health Organization.