How Has Cyberbullying Been Impacted by the COVID-19 Lockdown?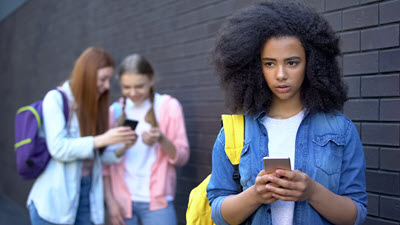 As one might expect, children are at higher risk of being bullied and sexually exploited online during the COVID-19 pandemic than ever before. More than 1.2 billion children across the globe have moved to remote learning because their schools closed for in-person instruction as a result of the pandemic. Experts have been warning parents and guardians to be on high alert for signs of bullying and exploitation of minors in various online programs and apps.
A warning from UNICEF
UNICEF issued a stern warning related to cyberbullying and sexual exploitation of minors online:
Spending more time on virtual platforms can leave children vulnerable to online sexual exploitation and grooming, as predators look to exploit the COVID-19 pandemic. A lack of face-to-face contact with friends and partners may lead to heightened risk-taking such as sending sexualized images, while increased and unstructured time online may expose children to potentially harmful and violent content as well as a greater risk of cyberbullying.
Other advocacy groups note that not every child who is learning online has the knowledge, resources, or the skills to help protect themselves from sexual predators or cyberbullies.
A worldwide increase in cyberbullying
One country experiencing a significant increase in cyberbullying during the coronavirus pandemic is Australia. The eSafety Commissioner for Australia reported a 50 percent increase in incidents during just the first three weeks of the lockdown.
Just like COVID-19 has affected the world, so too has cyberbullying. It is a global problem that has only increased since the pandemic began. According to a startup based in Israel named L1ght, online bullying among children and teens saw a 70 percent increase between March and April. The startup tracks hate speech and harassment found online.
Protecting children from cyberbullying
Regularly monitoring what your children are doing online is a good way to keep them safe, but today it's more important than ever. With children spending a large portion of their day logged onto different programs for school, many of which have chat features, abuse and bullying can run rampant. Parents can do the following to help protect their children from cyberbullying:
Talk to your children about online bullying
Make sure your children are mindful of what they post online
Make sure your children respect others while online
Check their online accounts periodically for anything that looks out of the ordinary
Tell your children it's important that they report any online bullying immediately to their teacher and to you
Set age parameters on websites with questionable content and sites with chat features
Set limits for time spent online for school and for fun
Has your child endured cyberbullying while schooling at home? You have the right to take steps to end it. If reporting the incidents to your child's school has not helped, it's time to speak with an attorney. Call the office of the Rocky McElhaney Law Firm at 615-425-2500 or complete our contact form to schedule a consultation today. We have offices in Nashville, Hendersonville, and Knoxville to better serve you.