Rocky McElhaney Law Firm Raises Funds for Gallatin CARES
Rocky McElhaney Law Firm is proud to announce that this year's partnership with Gallatin CARES was a huge success! This year, we raised $5,700.00 for this extraordinary non-profit organization that supplies more than 700,000 lbs. of donated food and more than 6,000 prepared, hot meals to vulnerable individuals and families in Gallatin and throughout Sumner County. We partnered with Music City Health and Just for Kids Teeth to make contactless pantry drop off more convenient, and to widen and deepen the reach of this very important campaign for families in need in Sumner County and beyond.
The campaign ran from November 9, 2020 through December 3, 2020 and culminated in two days of service by the RML staff. We accepted food and monetary donations, which were used to purchase groceries in bulk at better prices than the public receives. This means that our collective donations went further to help families and helped Gallatin CARES get exactly the food items they needed to build more complete and nutritious food boxes for those they serve.
We dropped off all the food, helped build the infrastructure to support it, loaded everything up, and then presented Gallatin CARES with the final donation check. Maybe it was all the onions we purchased, but let's just say that quite a few of us were wiping our eyes by the end. We are so proud to help this amazing group of people who care so deeply about the community.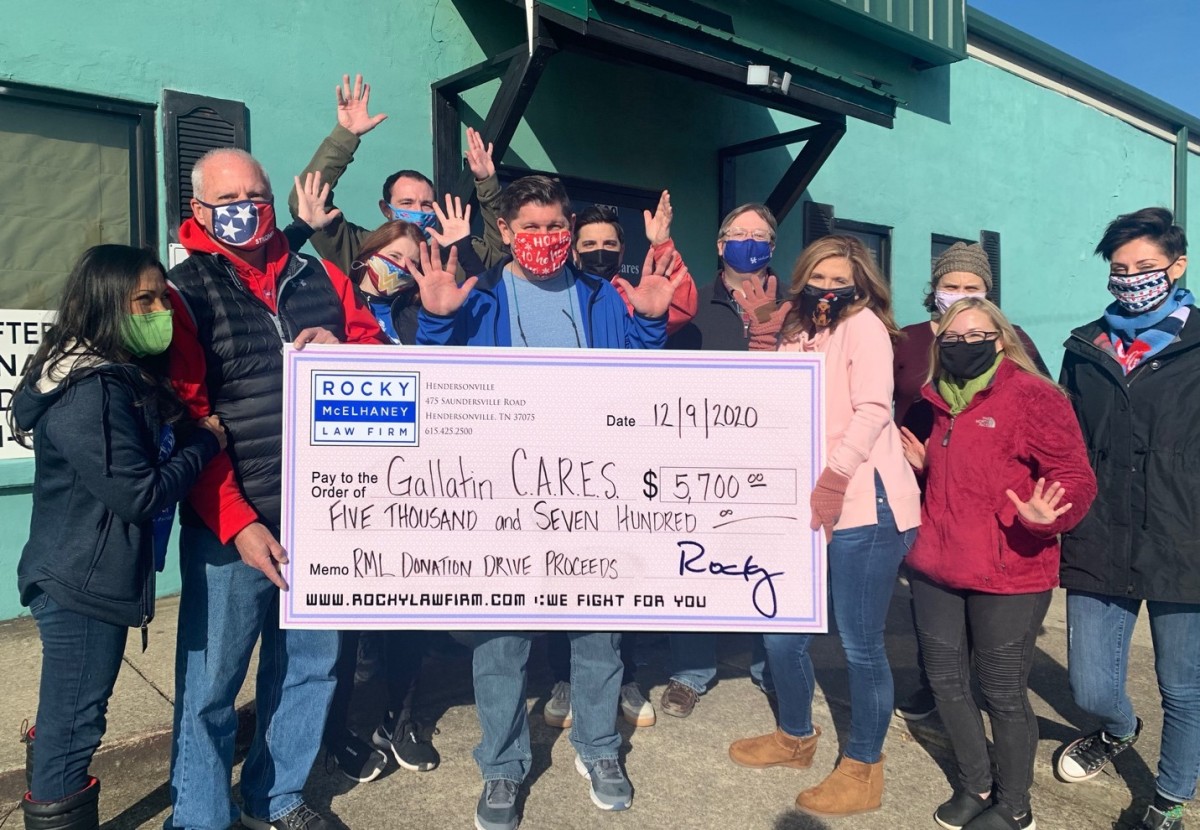 Why Gallatin CARES needs our help, more than ever
For years, Rocky McElhaney Law Firm has run an annual holiday fundraising campaign to help Gallatin CARES. With the help of our team, our friends and family, and our community, we have raised over $20,000 for the non-profit. And every single penny of it was much needed, and much deserved.
Gallatin CARES uses every part of every donation – food, clothing, or cash – to make a difference.
Profits from the thrift store fund the food pantry and its operations.
They take used, stained, and unwanted clothing the public donates that cannot be sold in the thrift store and sell it to a third party which breaks the garments down for use in building materials. That revenue stream also funnels directly back into the food pantry.
They partner with local organizations, businesses, and churches to offer more life-changing and comprehensive services that provide care, shelter, safety, and more consistent nourishment to struggling individuals and families.
Gallatin CARES has seen good times of great giving but often, they struggle to keep their shelves full to continue blessing others. When this happens, food boxes of canned goods meant to feed entire families for a week begin to look more like they are meant to feed a party of one for just a few days.
Despite great droughts from time to time in local giving, this organization pushes through. They've never closed their doors to people in need. They've never let anyone go hungry. They've never let anyone needing necessities go without. Many times, the volunteers and employees that keep Gallatin CARES running 365 days a year give from their own pockets to keep the doors open.
Our fundraiser may be finished, but you can still show you CARE by donating to Gallatin CARES directly.
Send a check to Gallatin CARES, 330 N Durham Avenue, Gallatin, TN 37066
Designate Gallatin CARES as your charity of choice when shopping through Amazon Smile
Donate services or items directly to the thrift store or the food pantry
We want to thank everyone who donated to our fundraising efforts this year. We know it has been a very tough year for everyone, and that Middle Tennessee in particular has faced some incredible challenges. Gallatin CARES is unmovable in its mission to help to feed, clothe, shelter, and guide folks through the storms of life – and that's a mission that all of us at Rocky McElhaney Law Firm can get behind!