Nashville Traffic Is Changing – When's the Safest Time to Drive?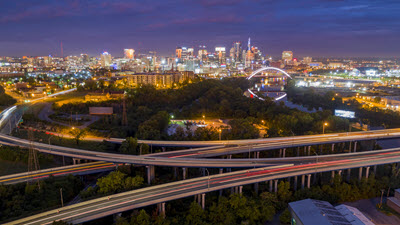 For many years, Nashville traffic has been a growing nightmare, and it seemed there really was no safe time to get out on the roads. Analysts found that the average Nashville driver sits in traffic for 15 hours a year, costing each driver approximately $220 annually. In 2020, as well as its trials and tribulations, the pandemic brought an unexpected reduction in the number of cars on Nashville highways and city streets. In fact, a recent report released by INRIX revealed that Nashville is now the 44th most congested city in the United States, dropping 7 places from its previous listing as number 37.
The study, called the INRIX 2020 Traffic Scorecard, ranked over 1000 cities in 50 countries, with a special look at the COVID-19 pandemic and its effect on transportation and traffic patterns. Some of the highlights of the study include:
Car collisions and accidents dropped 30% in the U.S. in 2020
Accidents became more deadly due to increased speeding
S. drivers saved a collective $980 million from reduced driving in 2020
Traffic delays fell 44% in major cities around the world
Closer to home, INRIX also crunched some numbers around Nashville traffic. In addition to being the 44th most congested city in the country, they came up with the following data for Music City:
It's the 278th most congested city in the world
Drivers traveled 13% miles fewer in 2020
There were 19% fewer collisions in 2020
As the country begins a slow recovery from the pandemic, experts say they already see vehicles returning to the roads. Does this mean the risk of car wrecks will go up? Nobody knows for sure, but some times of day may be safer than others.
The early bird gets the open road
INRIX transportation analyst Bob Pishue told WKRN.com, "Main thing we noticed pretty much across the country is that the afternoon or evening commute period, that is almost as congested as it was pre-COVID-19. The big changes are in the morning commute. We're seeing far fewer vehicles on the road during the morning commute."
Generally speaking, morning really is the safest time to drive. Morning commuters are generally more awake, more alert, less likely to be under the influence of drugs or alcohol, and in less of a hurry to get to work than they would be to get home, so therefore less likely to speed.
What are the most dangerous times to drive?
If early morning is the safest time, you might assume late at night is the most dangerous – but it's actually not. The most dangerous time to be on the road is during the evening commute, between 5:00pm and 7:00pm, according to DriversEd.com. Not only do you have to deal with other commuters who are tired and ready to get home, but you also face risks from the setting sun, which can create sun glare and low visibility. Once the Nashville nightlife is back in full swing, you'll also have to contend with drunk drivers, excessive numbers of Ubers or Lyfts, and the ubiquitous bachelorette parties, too.
DriversEd.com points out, however, that while the evening commute is the most dangerous time, the deadliest times on the roads are between midnight to 4:00am. Aside from the risks of drunk drivers, speeding drivers, fatigued drivers, low visibility, and the local wildlife running across the roads, a lot of overnight construction is done during these times. This means there are road work vehicles to contend with, bright lights in your eyes, and unexpected lane changes, all of which can make traveling dangerous and deadly.
At Rocky McElhaney Law Firm, our Gladiators in Suits fight for your rights when you're injured in a car crash. When another person drives recklessly or carelessly, we work to ensure you are compensated for your injuries and losses. We fight so you don't have to. Call our office at 615-425-2500, or complete our contact form to schedule a free consultation. Our team operates offices in Nashville, Hendersonville, and Clarksville to better serve you.