Nashville Construction Accident Attorneys
As the son of a laborer permanently disabled by an on-the-job accident, Nashville Construction Lawyer Rocky McElhaney takes the injuries of injured workers very personally.  He brings all his years of experience fighting for victims of construction site and other workplace accidents to bear on behalf of clients whose lives have been forever changed through no fault of their own.  If you or someone you love was hurt in a Nashville construction accident and now need legal advice on how to recover compensation to keep their family going, the Rocky McElhaney Law Firm can help.
Construction work is by its very nature dangerous.  Heavy equipment, hazardous materials, and a hectic environment usually surround workers.  Even the most careful employee is at risk of serious injury or death due to errors or outright negligence at the construction site.  And while insurance should compensate victims of construction accidents in their time of need, most insurers do everything possible to delay or outright deny these perfectly-legitimate claims.
Rocky McElhaney knows this is wrong.  He is not afraid to confront insurance companies and their attorneys to fight for the benefits you deserve.  If needed, he will file a lawsuit on your behalf against the parties responsible for the accident that seriously injured or disabled you.
Sometimes insurance is not enough – you need a construction attorney

If you have been injured on the job in Tennessee, you may be entitled to workers compensation benefits.  Workers compensation usually covers medical expenses, temporary total disability, and provides other vital benefits.
However, some employers choose not to carry this insurance in spite of the law, which exposes them to a potential lawsuit.  Even if your employer is properly covered, a lawsuit may be an option if a third party other than your employer was responsible for the construction accident.  For example, if you were injured because a forklift malfunctioned, the company that manufactured the faulty forklift could potentially be held liable for your injuries.  A key to recovery is a good investigation into the facts and circumstances.  Rocky has the tools and resources to perform such investigations.
Whether you need help securing workers compensation benefits, your employer failed to carry workers compensation, or you are not sure whether you have a valid claim against a third party, contact Rocky McElhaney.  Our attorneys can evaluate your case and determine who is at fault for your accident, and what legal actions should be taken next.
Construction Accidents Caused by Falls from Heights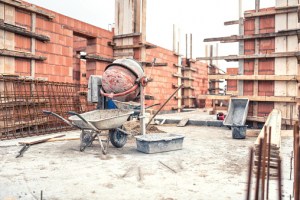 The construction industry plays an essential role in building the infrastructure of our modern world, but it is an incredibly dangerous industry in which to work. The U.S. Occupational Safety and Health Administration (OSHA) reports that of the 4,386 worker fatalities in 2014, 899 of them (or about 1/5) were in the construction industry. The leading cause of death in the construction industry was from falls, which represent about 39.9% of the deaths in the construction industry in 2014. Interestingly, the lack of fall protection in the construction industry is one of the 10 most frequently cited OSHA violations in fiscal year 2015.
Employers owe a duty of care to provide a safe working environment for their employees. According to the Secretary of Labor Thomas E. Perez, "No one should have to sacrifice their life for their livelihood, because a nation built on the dignity of work must provide safe working conditions for its people."
Preventing falls in the construction industry
SHA has developed safety rules and regulations that employers are obligated to follow or they face steep fines if a worker suffers an injury that was caused by a violation of OSHA regulations. They require employers to provide fall protection for construction workers who are working on a surface that has an unprotected edge that is six feet or more above the level beneath. Examples of fall protection that meets OSHA standards include:
Safety harnesses (personal fall arrest systems)
Guardrails
Safety net systems
Fall restraint systems
There are rules and regulations that govern the use of fall protection systems, and OSHA has recently updated its guide to Fall Protection in Construction, which is a downloadable guide.
Types of injuries from falls in construction accidents
The type and severity of injuries from construction site accidents will vary of course, depending on the height from which the worker fell, whether they struck anything as they fell, and what type of surface they landed on. Some of the typical injuries include:
Broken bones
Bruises
Lacerations
Back and neck injuries
Traumatic brain injuries
Spinal cord injuries
When workers are injured on the job during the course of their regular work activities, they may be eligible to file for workers' compensation, which is a no-fault disability compensation system administered by the state. Injured workers are required to report their injury to their employer and then see a doctor right away in the case of an accidental injury. Workers receive a partial wage replacement payment and medical expenses related to the workplace injury. There is also a death benefit for the surviving spouse or family members of workers who die in a work-related accident or from an occupational disease.
Let Rocky fight for you after a construction accident in Nashville
Our firm has a tremendous record of successful settlements and jury verdicts, and we welcome the honor and opportunity to represent you if you have suffered an injury due to a construction accident or any other kind of workplace mishap.
Call Rocky at 615-246-5549 or contact the firm online to schedule a free initial consultation. From our offices on world famous Music Row in Nashville, the Rocky McElhaney Law Firm represents clients throughout the state of Tennessee, including Knoxville, Memphis, Hendersonville, Columbia, Murfreesboro, Chattanooga and Kingsport.