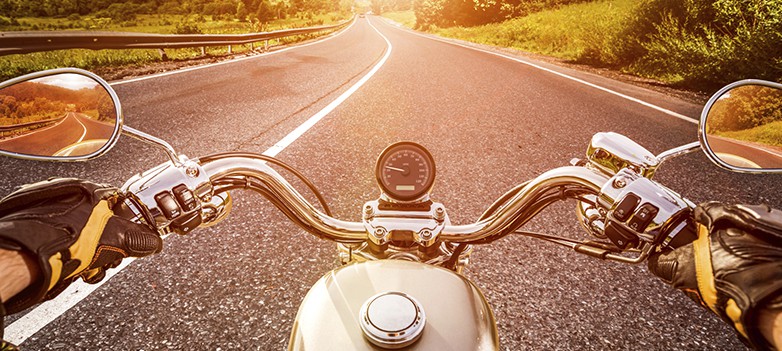 Trusted Nashville Motorcycle Accident Attorneys on Your Side
Whether you ride a Hog or a Honda, we put bikers' rights first
On a beautiful day, you can't beat the freedom of taking your bike out for a spin on Tennessee's majestic roadways. From the rolling hills of the Tennessee Bottoms to the mountains in the Blue Ridge, the call of the open road can be heard loud and clear. But motorcycle riders face an army of potentially deadly vehicles every time their wheels hit the pavement. Commercial truckers can't always see you, and not every motorist is as familiar with the rules of the road as you are.
At the Rocky McElhaney Law Firm, we know the potentially deadly consequences bikers face when they're involved in a car crash, or when the roadways have less-than-ideal conditions. Our attorneys recognize the struggles that riders face and are committed to providing you with the compensation you need to rebuild your bike, your body and your life after an accident.
Common types of motorcycle accident injuries
Because your entire body is exposed while you're riding, you have a greater chance of serious injury if you're involved in a motorcycle accident. Motorcycles are also especially prone to mechanical failure, and just one defect can have catastrophic consequences for its rider. Our Tennessee lawyers have helped obtain compensation for bikers with:
Biker's arm, caused by nerve damage in a fall
Broken bones and limbs
Concussions and traumatic brain injuries
Facial disfigurement
Internal bleeding or organ damage
Permanent or temporary paralysis
Soft tissue damage to the skin and muscles caused by road rash
Spinal damage
We have also successfully represented families when an accident leads to a tragic wrongful death. At the Rocky McElhaney Law Firm, we treat bikers and their families with respect and dignity. We want you to focus on your recovery, so we strive to create a stress-free atmosphere for you to discuss your case.
But don't mistake our friendly and inviting office for weakness; we're among Nashville's premier civil litigation firms for a reason. Our tenacity has led us to multiple million dollar verdicts on behalf of our injury victims. When you want an aggressive team of attorneys who stop at nothing to obtain the compensation you deserve, you'll find them at here the Rocky McElhaney Law Firm.
Let our family fight for you after you've been in a motorcycle accident in Tennessee
Whether your Harley flipped because of poor roadway conditions or you were hit by a driver during a charity ride, the Rocky McElhaney Law Firm in Nashville has the experiences and resources you want on your side. We respect bikers and their rights, and we don't back down from a fight with the insurance companies who don't want to pay up. To schedule a free initial consultation, please call 615.246.5549 or fill out our contact form. We are proud to help clients from all over Tennessee, including Chattanooga, Murfreesboro, Knoxville, Hendersonville, Memphis, and Kingsport.