Backup Cameras Are Not Foolproof: Safety Precautions for Drivers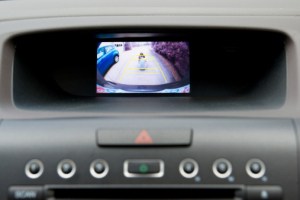 Driving a vehicle in reverse can be one of the most dangerous driving maneuvers. Every vehicle has blind spots, so vehicle manufacturers began adding backup cameras to help drivers get a clear view of what is behind their vehicle when they are backing out of a parking space or driveway. But drivers can be lulled into a false sense of security when using a backup camera. It is important to understand the limitations of the equipment so that it can be used to help increase safety. The National Highway Transportation Safety Administration (NHTSA) has mandated that by 2019, all new cars will have a backup camera that provide a clear view of 10-20 feet behind the vehicle as standard equipment.
Back over accidents
Backup cameras can save lives – mostly children's lives – because children are often the unfortunate victims of back over accidents. According to the NHTSA, children under the age of 5 account for 31 percent of the estimated 292 back over fatalities and 18,000 injuries that occur each year in the United States.
Limitations of backup cameras
Without a backup camera, drivers would be unable to see any obstacle or person behind the rear bumper that is lower than the rear window of the vehicle. The Insurance Institute for Highway Safety (IIHS) reports that SUVs have and trucks the largest blind spots, which is why they account for the largest percentage of back over crashes.
Backup cameras reduce blind spots significantly, but they do have their limitations. In an IIHS study, even when they were used properly, not all backup cameras prevented crashes. Factors such as the object being in the shade, poor weather conditions limited the driver's ability to see the object behind them.
Proper use of backup cameras
The backup camera beams an image of what is directly behind the vehicle to a video screen in the driver's dash. The most effective way to use the technology is to look in both side-view mirrors and the rear view mirror before backing up rather than just keeping the eyes glued to the screen. Jessica Cicchino VP of research at the IIHS said in a Washington Post article, "Deaths from back over crashes thankfully are pretty rare, but they are still tragic. We know that rear cameras help, but they are not a silver bullet."
The IIHS mentioned that backup cameras become more effective when combined with automatic rear braking systems and parking assist technology.
Tips for preventing back over accidents
The NHTSA offers these tips for preventing back over accidents:
Teach children not to play in or around cars.
Supervise children when they are in or around vehicles.
Always walk behind your vehicle and check the area before you back up.
Look behind you while you back up slowly in case something moves quickly into your path.
Do not rely solely on the rear camera and other technology features of the vehicle. Use your eyes and your mirrors the entire time you are backing up.
At the Rocky McElhaney Law Firm, we fight for our clients who have been injured in auto accidents caused by another person's negligence. We have the experience and we know how to get the job done. You may schedule your free consultation with a member of our team in Nashville, Hendersonville or Knoxville, by calling 615-425-2500 or filling out our contact form. Let our Gladiators in Suits fight for you!