George Strait's Longtime Drummer, Mike Kennedy, Killed in Tragic Crash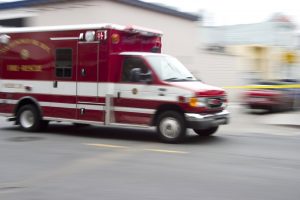 MSN reported on September 3, 2018 that Mike Kennedy, who was a longtime drummer for country music superstar George Strait, was killed in a Lebanon, Tennessee car crash on Interstate 40. The accident involved three vehicles. Mr. Kennedy's SUV merged onto the right lane of I-40 when it collided with a tractor-trailer. The truck then crashed into a pickup truck.
According to the Tennessee Highway Patrol, Mr. Kennedy was the only person killed, He wasn't wearing his seatbelt when the crash occurred. Mr. Kennedy was 59 years old.
Mr. Kennedy had performed with George Strait for almost 30 years. His first album collaboration with Mr. Strait was the 1992 album "Holding My Own." According to Rolling Stone, Mike Kennedy then joined Mr. Strait's tour as a member of the renowned Ace in the Hole backing band.
Mr. Strait said, on learning of his drummer's death, "Hard to put into words how much Mike's passing has affected us all. Our hearts are broken. It's going to be very strange not being able to look over and see him there in his spot-on stage and very emotional as well I'm sure for all of us and also his fans."
Mr. Kennedy also worked with such musical luminaries as Ricky Skaggs, Jamey Johnson, and Freddie King.
Does Mr. Kennedy's family have a wrongful death claim?
In cases similar to the Kennedy death case, there are several types of lawsuits that could be brought. There does not appear to any liability on the part of the pickup truck driver since the initial crash between Mr. Kennedy and the tractor-trailer forced the tractor-trailer into his vehicle.
The key question is who had the right of way – Mr. Kennedy or the driver of the tractor-trailer. If Mr. Kennedy had the right-of-way, his family could bring a wrongful death claim against the truck driver and possibly the trucking company that hired the truck driver. In Tennessee, wrongful death claims are brought on behalf of the spouse, children, and the parents. An experienced Nashville truck accident lawyer can explain which relatives have priority.
Damages in wrongful death cases where death is instantaneous include:
The cost of the burial and funeral
The loss of wages the decedent would have earned but for the premature and wrongful death
The family members' suffering and other expenses due to their loved one's death
The loss of society, love and companionship the decedent would have given the family members
It's a tragedy when anyone dies. It's devastating when the death is due to someone's negligence. At the Rocky McElhaney Law Firm, our Gladiators in Suits fight for the victims of truck accidents and for the families of anyone killed in a truck crash. When truck accidents end our change a life, you need respected trial lawyers on your side – lawyers with a strong track record of successful results. To make an appointment now, please phone us at 615-425-2500 or fill out our contact form. You can meet with us in Nashville, Hendersonville, and Knoxville. We represent injury victims across Tennessee.
Nashville personal injury attorney Rocky McElhaney is a well-known and respected lawyer as well as published author, helping Tennesseans through difficult times since the turn of the century. Rocky builds friendships with his clients, not just professional relationships. Rocky McElhaney is a Super Lawyer, AV Rated by Martindale Hubbell, has been named a Top 100 Trial Lawyer by the National Trial Lawyers Association and has been awarded Best Lawyer in Nashville by the Nashville Scene Readers' Poll
The Rocky McElhaney Law Firm represents people who have been injured by car accidents, truck accidents, motorcycle accidents, negligent premises owners, defective products and many other forms of negligence throughout the state of Tennessee. The firm also represents clients in the areas of workers' compensation and Social Security Disability claims.