A Close Call for New Residents in Gallatin Hits Close to Home – Employee Spotlight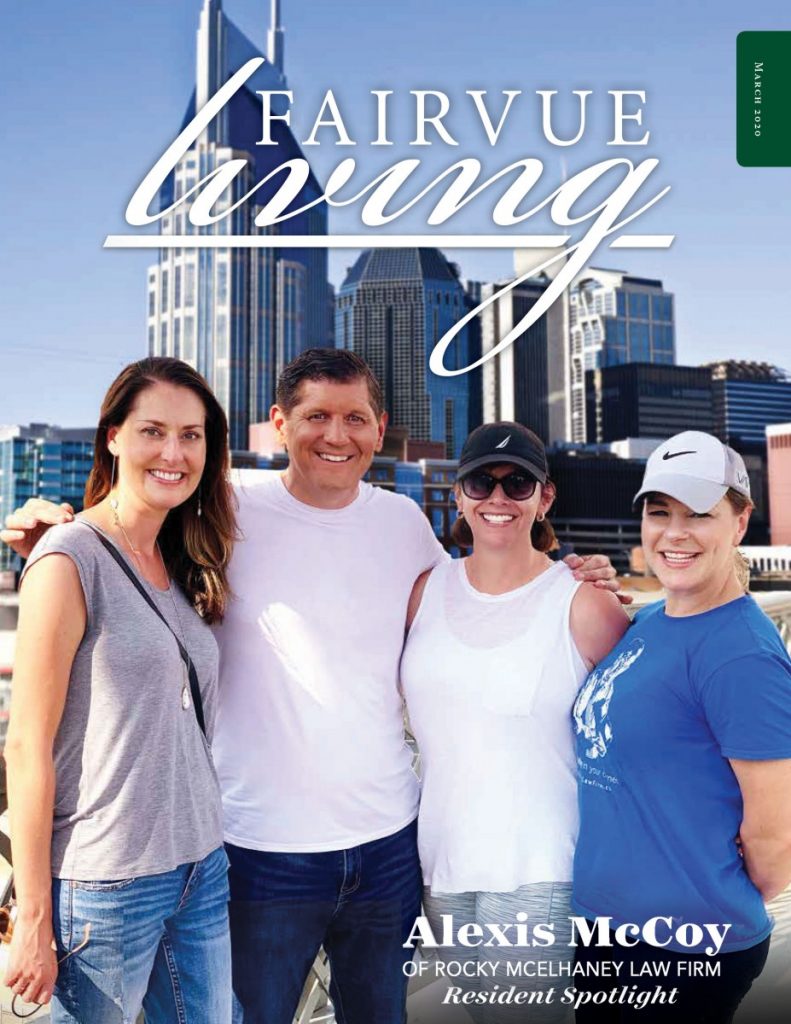 This month, Rocky McElhaney Law Firm's Chief Marketing Officer, Alexis McCoy, was selected to grace the cover of a local neighborhood magazine and be interviewed for a feature article talking about her transition to a new community and into her new dynamic role with the firm.  The article takes an interesting turn when working for Nashville's Best Places to Work turns out to be even more beneficial to her and her family than she bargained for…
Alexis McCoy Family In 2019, Paul and Alexis McCoy and their 5-year-old son, Lennox, moved from Nashville to their new home at Fairvue Plantation in Gallatin, Tenn. The move to Sumner County was primarily to bring Alexis closer to her new job as Chief Marketing Officer at Rocky McElhaney Law Firm (RML). The family quickly fell in love with the beauty and convenience of Hendersonville, Gallatin, and the Fairvue community. "We love the friendly people and the feeling of community. And, of course, getting wherever you want to go in just 5 to 10 minutes feels like a miracle when you're used to Nashville traffic."

The idea for re-locating began in the fall of 2018. "Paul and I wanted our son to experience the close connection and support we had growing up in small-town Kentucky. We were also feeling the strain of spending hours in Nashville traffic. We wanted more time to live our lives," Alexis says.

About the time Alexis and Paul were considering a move, Penny and Rocky McElhaney were considering their need for an executive to lead their firm's marketing and communications strategy. With over 16 years of success leading marketing, brand management, and business development, Alexis was the perfect fit. Her knowledge and organizational vision received a warm welcome at Rocky McElhaney Law Firm (RML), which has experienced unprecedented growth since moving its headquarters from Nashville to Hendersonville in 2017.

Over the course of the past year, the strong executive team at RML has made great strides in scaling the business statewide while preserving its client-focused values and mission of providing help, hope, and justice for serious injury victims across Tennessee.

"The attorneys and staff at the firm take time to get to know our clients. We care about them. Understanding our clients' lives is key to anticipating their needs and critical to winning their cases," Alexis said. Alexis had a strong belief in the superiority of RML's client service, but in the spring of 2019, she was forced to test drive the experience herself.

A month after joining the firm, her husband and son were involved in a wreck downtown. Another driver ran a red light and t-boned her husband on the driver's side. Lennox was shaken up but, thankfully, mostly unharmed. Unfortunately, Paul sustained injuries to his arm and back. Never having been involved in a serious wreck or dealt with the mountain of bills, paperwork, and pressure from insurance companies, Alexis knew she needed help. Even though the wreck was the other driver's fault, Alexis and Paul were concerned. "The other driver's insurance company seemed to have a team of people already on their side. My husband was hurt, his car was totaled, and my son was having nightmares. We just wanted to make sure the other driver paid for the damage he caused," Alexis said. The McCoys had to do something to quickly to even the playing field. Luckily, she knew a good attorney in town.

Just as the firm does for each and every client, they got to work right away investigating and building a case for Paul and Alexis. RML's dedicated legal team took the weight of communicating and negotiating with the insurance company off of Paul and Alexis's shoulders. They helped Paul get the medical care he needed; they saw that he was provided with a rental through the insurance company; they kept the McCoys informed every step of the way. "Before long, we were accepting a very healthy offer from the insurance company that we couldn't have obtained on our own. It more than took care of the medical bills; it gave us peace of mind."

Over a year out from the date of the wreck, Paul is doing much better, and Lennox has resiliently bounced back from that traumatic day and is back to enjoying fantastic little boy things and terrifying his mother. Although Alexis wishes her family had never had to experience a wreck in the first place, she knows she couldn't have been in a better position to overcome it. "Life is unpredictable and, in this circumstance, strangely connected. I'm thankful to have had Rocky in my corner to fight for my family. Seeing how hard this team works on behalf of their clients is inspiring. It's confirmation for me that I'm in the right place at the right time, helping a great local company do even more good," Alexis said.

What I Learned About Car Insurance That Everyone Should Know

"Working at a personal injury law firm has been eye-opening. I was surprised to learn that I was grossly underinsured. I remember, on my first day of work at RML, spending my lunchtime calling my car insurance company to review my family's policy declarations."  Knowing 20% of Tennessee drivers are uninsured, Alexis says, "You're taking a big chance every time you get on the road without uninsured motorist coverage." Before joining RML, Alexis says she thought her family had an adequate amount of coverage. "I hadn't considered what it would cost my family if I was hit by an uninsured driver." If you're the victim of a hit-and-run or a wreck with an uninsured driver, the cost of injuries like broken bones, surgery, and medications or the cost of having to miss work can quickly and easily reach hundreds of thousands of dollars.

Rocky suggests staff and clients 

buy as much insurance as they can afford and, then when they can afford more, buy more. Your liability coverage protects the other driver if you hit them. Your uninsured motorist (UM) and under-insured motorist (UIM) coverage protects you and your family if you're hit and the at-fault driver doesn't have enough insurance to cover your damages. Additionally, if you have substantial assets, Alexis says the firm encourages people to consider purchasing an umbrella policy. An umbrella policy can provide extra protection beyond the limits of an auto policy.
---
The experienced and compassionate Nashville personal injury attorneys at Rocky McElhaney Law Firm understand the devastation caused by serious injuries resulting from the negligence of others.   Our team fights to recover the compensation you deserve for your pain, suffering, and inability to work and enjoy life.  To set up a free consultation at one of our offices in Nashville, Hendersonville, or Knoxville to discuss your case, call us today at 615.239.5761 or fill out our contact form.  We fight for you!