Rapid Blood Test Could Help Detect Brain Injury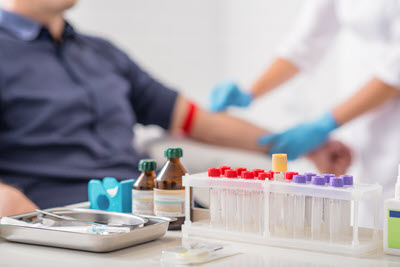 In what could be a breakthrough regarding the detection of traumatic brain injuries (TBI), Abbott has announced that a blood test it is developing might be able to detect mild TBI in patients even if a CT scan could not. The news of this study first broke in August 2019 but Abbott recently announced in January 2021 that it received FDA approval for the first-ever rapid blood test for TBIs and concussions.
"Blood-based biomarkers are emerging as an important tool to detect TBI, and this research opens up the next chapter for how the condition is evaluated," said Geoffrey T. Manley, M.D., Ph.D., principal investigator of TRACK-TBI, neurosurgeon and professor of neurosurgery, University of California, San Francisco (UCSF) in a press release. "Having these sensitive tools could provide physicians more real-time, objective information and improve the accuracy of detecting TBI. This research shows that blood tests have the potential to help physicians triage patients suspected of brain injury quickly and accurately."
What is rapid blood testing?
Approval from the FDA for rapid blood testing of traumatic brain injuries allows doctors to assess patients in a matter of minutes. Most results should come back within 15 minutes of the plasma being added to the test cartridge.
"Healthcare providers have been waiting for a blood test for the brain and now we have one," said Beth McQuiston, M.D., medical director for Abbott's diagnostics business. "You can't treat what you don't know and now physicians will be equipped with critical, objective information that will help them provide the best care possible, allowing patients to take steps to recover, prevent re-injury and get back to doing the things they care about most."
How does rapid blood testing determine a TBI?
The test can measure specific proteins that are found in the blood following a TBI. If the test comes back negative, a CT scan does not have to be performed. If the test comes back positive, a CT scan can be used to help diagnose the severity of the TBI.
A small sample of blood is taken from the arm of the patient. The plasma is then separated from the blood using a centrifuge. Abbott is still working to create a whole blood test where the plasma wouldn't have to be extracted from the blood sample.
This rapid test is a step in the right direction when diagnosing and treating TBIs, of which time is the essence. More than five million people visit hospital emergency rooms every year for TBIs. Diagnosing a TBI is very complex and almost half of all cases are missed. On top of that, there are patients who do not go to the hospital for suspected TBIs. researchers from Abbott and doctors at hospitals across the country hope that a rapid test like this will encourage more people to seek treatment for TBI in the future.
Has a loved one suffered a concussion or other type of TBI? It is in your best interest to seek legal representation immediately. The personal injury lawyers at Rocky McElhaney Law Firm will fight aggressively for compensation so your loved one receives the care they deserve. Call our office at 615-425-2500, or complete a contact form to schedule a consultation. We have offices in Nashville, Hendersonville, and Clarksville.