Peloton Finally Recalled Its Deadly Treadmills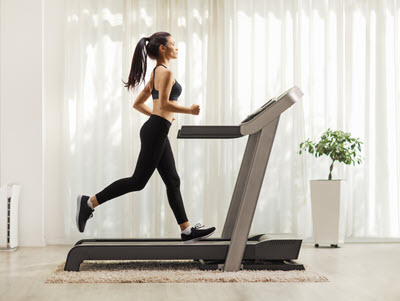 In 2020, the COVID-19 pandemic forced the majority of us to become homebodies.  With country-wide lockdowns and closed businesses, it became even harder for the average person to stay active and in shape, leading to a lot of us resorting to at-home workouts.  Peloton, a high-tech exercise equipment company doubled its product sales and expanded its connected digital fitness class subscribers to 1.09 million – a 113% increase from only one year earlier.
You have probably seen the commercials. Peloton boasts of intuitive, personal training via a large LCD screen fixed atop the treadmill, with innovative settings and positions to encourage a full-body workout. On the surface, this sounds great (albeit expensive). However, recent reports show they may be sacrificing safety for technology — and the company doesn't seem to be rushing toward a fix for this problem.
Why are Peloton Tread and Tread+ treadmills so dangerous?
In March of this year, a child tragically died due to being crushed under the treadmill. In April, when nothing had been done to fix the dangers that caused it, the U.S. Consumer Product Safety Commission put out a report urging those with children and pets to stop using the machine. They had been made aware not only of the one death, but of the dozens of other reports of children becoming trapped and pulled by the machine. The CPSC inspected the Peloton treadmill and found it's built differently, with "an unusual belt design that uses individual rigid rubberized slats or treads that are interlocked and ride on a rail."
If this isn't gruesome and horrifying enough, Peloton's initial response certainly was. At the time of that report, with full knowledge of the death of a child and the injuries of several others, the company resisted any recall action. They simply suggested keeping children and pets away and asserted that there were no dangers to those using the device properly.
This, obviously, was neither enough nor fully accurate. With the release of the CPSC's report, however, Peloton CEO John Foley issued an apology and a recall of its deadly treadmills.
Why won't companies recall dangerous products?
It all comes down to money. If a company believes that the cost of lawsuits will be less than the costs associated with recalls, it will likely take its chances. The cold, hard truth of most corporations is that they simply do not care that much about your wellbeing as long as you're filling their pockets, and this is never more evident than when a tragedy strikes.
However, when the public raises the alarm about a dangerous product, companies may be more likely to issue a recall swiftly; the backlash is simply too great not to do so. That's part of why Peloton's behavior was so bizarre to so many of us. After all, there was literal video proof of a child dying because of its products.
Because of Peloton's late response, they have unwittingly geared themselves up for quite a few lawsuits, as their liability could fall under failure to warn, design defect, and manufacturing defect in one fell swoop. This doesn't mean the victims of their product won't have a difficult time holding them responsible — their team of lawyers will work very hard to thwart all accountability. The best thing for those families to do is to hire a personal injury law firm as quickly as possible, who will work diligently on their behalf to gather evidence, build a case against Peloton, and fight for the legal compensation and justice the victims rightly deserve.
Corporations are incredibly adept at avoiding lawsuits — most of the time. They have teams of lawyers on their sides to protect their bottom line from legal complaints.  If you're up against a giant like this, it pays to have a fighter on your side. Rocky McElhaney has never shied away from a case just because the company was nationally known, or its legal team was fierce. We've built our reputation on being the David against Goliaths – and we're not stopping now. We don't back down because the opponent is big or the fight is tough.
The only way to guarantee you don't get justice is not to seek it but getting started in a timely manner can be the difference between a win and a loss. Here at Rocky McElhaney Law Firm, our experienced Nashville product liability attorneys can help you gather your evidence and fight for you in a way you can trust. To learn how we operate, call us today at 615-425-2500 or fill out our contact form. We have offices in Nashville, Hendersonville, and Clarksville for your convenience. The consultation is free, and we don't get paid until you recover.
We fight for you.