Sexual Assault by a Doctor Is an Inexcusable Betrayal of Trust
The doctor patient relationship is supposed to be based on trust. When a doctor breaks that trust and sexually assaults their patients, it is an indefensible betrayal. In many of these cases, a patient is at their most vulnerable and the doctor uses that against them, leaving the patient powerless against their attack.
Over the past few years, the news has reported on multiple stories involving doctors committing sexual assaults.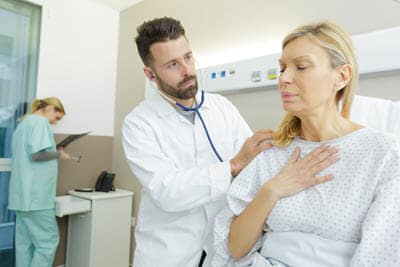 Recently, former neurologist Ricardo Cruciani was tried and convicted of sexually assaulting six women he treated in 2012 at Beth Israel Medical Center (now Mount Sinai Beth Israel) in New York. After three days of deliberation, a jury found him guilty of predatory sexual assault, sexual abuse, rape, and other crimes. Claims against this renowned pain doctor date back more than 15 years, and dozens of women across multiple states have accused him of sexual abuse.
If you are a victim of sexual assault by a medical professional, you have options. Rocky McElhaney Law Firm offers safe and discreet consultations with either a male or female attorney, in multiple offices throughout Tennessee. We also provide video consultations for survivors who feel safer in their homes.
Quick Links:
What constitutes a sexual assault?
The Centers for Disease Control & Prevention (CDC) defines sexual violence as "sexual activity when consent is not obtained or freely given." The CDS also asserts, "It is a serious public health problem in the United States that profoundly impacts lifelong health, opportunity, and well-being. Sexual violence impacts every community and affects people of all genders, sexual orientations, and ages. Anyone can experience or perpetrate sexual violence."
A patient in a doctor's office is vulnerable, looking for guidance and care regarding a health issue. When a doctor coerces, forces, or manipulates a patient into sexual activity, it is always sexual assault.
How often do medical professionals commit acts of sexual assault against patients in TN?
The good news is, most doctors do not sexually assault or abuse their patients. The bad news is, we have to say "most" and not "none." The last few years have seen some high-profile cases involving Tennessee doctors. Randolph M. Lowry, a former doctor at a veterans' home, recently had his license suspended by the Tennessee Board of Medical Examiners for his abusive actions towards patients, especially those with addiction issues. Shafeeq T. Sheikh was convicted of felony sexual assault in 2018. The Board also suspended his license.
But such suspensions are rare in most of the country. In 2016, the Atlanta Journal-Constitution ran an explosive expose on just how often sexual assault is swept under the rug for doctors:
The AJC obtained and analyzed more than 100,000 disciplinary documents and other records from across the country to find cases that may have involved sexual misconduct. Then reporters identified more than 3,100 doctors who were publicly disciplined since Jan. 1, 1999 after being accused of sexual infractions. More than 2,400 were sanctioned for violations that clearly involved patients. The rest were disciplined for sexual harassment of employees or for crimes such as child pornography, public indecency or sexual assault.
Yet many, if not most, cases of physician sexual misconduct remain hidden. The AJC investigation discovered that state boards and hospitals handle some cases secretly. In other cases, medical boards remove once-public orders from their websites or issue documents that cloak sexual misconduct in vague language.
It is worth noting that, unlike for the Catholic Church or the Boy Scouts, there is no comprehensive database of medical providers who have been credibly accused of sexual assault, abuse, or rape. In order for patients in Nashville to find out if their doctors are predators, they must either look up their licenses to see if they have been disciplined before (a good practice to get into, if we're honest) and hope that everything is up-to-date and accurate – or they must suffer as victims themselves.
It is also worth remembering that sexual assault and rape are wildly underreported by victims for many reasons, both societal and personal. Survivors often find themselves being blamed for the actions of the perpetrators and face additional harassment and disbelief. When the predator is a doctor (or anyone in a position of authority) a victim may feel even less sure about what happened. They could have been under anesthesia, or told that what was done to them was a routine pelvic exam; this is how Larry Nassar was able to groom and abuse hundreds of students and Olympians over the course of his career.
Who is liable if I am sexually assaulted by my doctor?
If a doctor or other medical professional sexually assaults or abuses you, you do have legal options. Depending on the circumstances, there may be multiple liable parties, including:
The abuser
Any partners in a private practice who turned the other way
The hospital or facility at which your doctor practices
A school or school district (if the abuser is employed by a school)
Any mandated reporters who failed to alert the proper authorities of potential abuse
Any other parties or participants in the abuse
What should I do if I was sexually assaulted by my doctor?
The nation's largest anti-sexual violence organization, Rape, Abuse & Incest National Network (RAINN) suggests the following if a doctor has assaulted you:
Call 911 to report to your local law enforcement.
Contact the hospital, doctor's office, or facility where you experienced the abuse.
Report the abuse to your state's medical licensing board.
File a case against your attacker.
The most crucial step to take after a sexual assault is to talk to someone. What you have experienced is a trauma, and your physical and mental wellbeing can (and almost certainly will) be affected. Finding a therapy group or a counselor in whom you can confide can make all the difference.
You can also talk to us. Our Nashville sexual assault attorneys can help you file a civil lawsuit against the doctor or medical professional who abused you. Along with compensation for your injuries, you can help ensure that this predator is held to account for his or her actions.
Rocky McElhaney Law Firm fights for survivors. We are there for you every step of the way and protect your interests. We can help you receive the compensation, peace, and justice you deserve. To learn more about how we can help you through this ordeal, call us today at 615-425-2500, or submit our contact form to schedule a free consultation. We have offices in Nashville, Hendersonville, and Clarksville.