Rocky McElhaney Named Nashville Scene Magazine's "Best Attorney" for an 8th Time!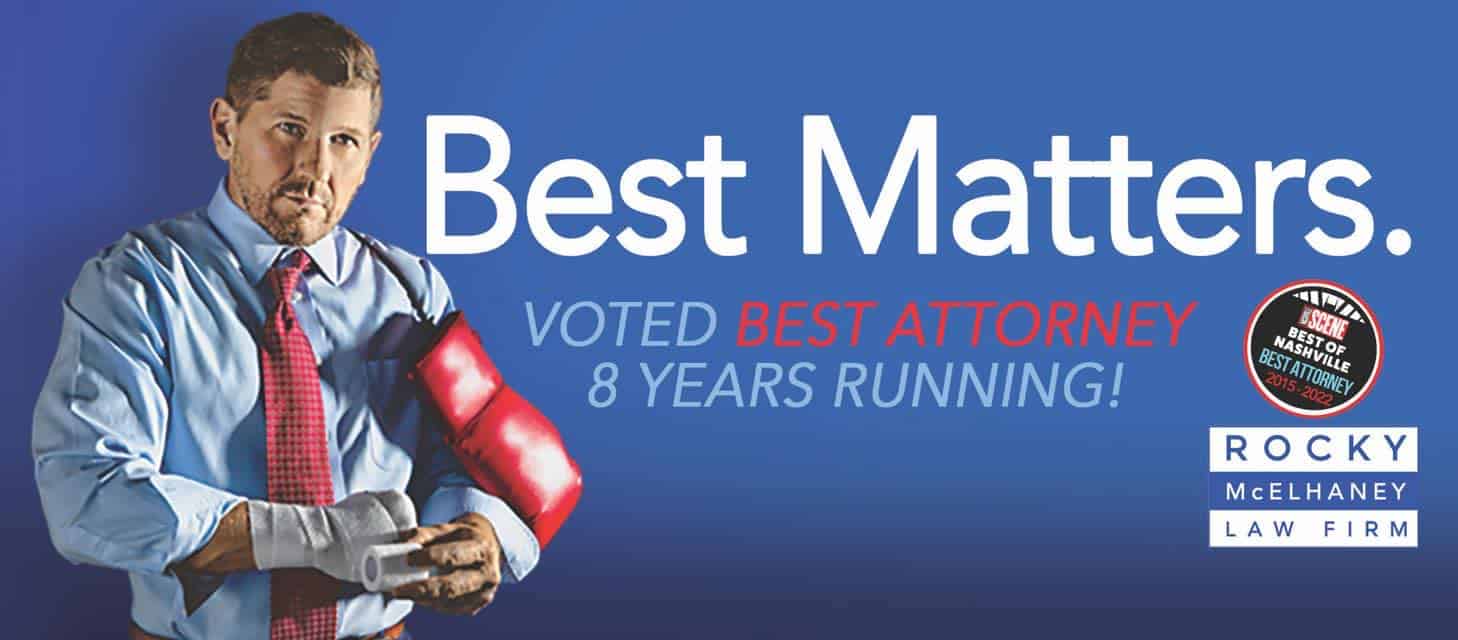 Coming at you with some amazing news today! Rocky McElhaney has been named Nashville's Best Attorney by Scene Magazine's 2022 Reader's Poll – for the eighth year in a row. The entire firm expresses their thanks and gratitude for all of you who voted for Rocky. We know it's been a tough few years, and we're so glad we've been able to continue our work in the Nashville community.
Rocky McElhaney has spent the better part of the last 20 years fighting for the rights of the injured. He cares for each and every one of his clients, and treats them like family. After growing up watching his father battle the insurance companies after a terrible back injury, Rocky dedicated himself to helping people just like his dad. He continually works to ensure his clients secure every penny of the compensation to which they're entitled.
Said Rocky, "I'm so appreciative of everyone who voted this year. Supporting local businesses is so important, especially in such a great city like Nashville. We love the community here and we love our clients, and being named 'Best Attorney' hopefully means our clients love us too. Our team is the best in the business, and our dedication to customer service and successful outcomes is second to none. This award is their award, too."
About Nashville Scene Magazine's Reader Poll
The "Best of Nashville" poll is one of our favorites, because winners are chosen by you – not other attorneys or organizations. "Best of Nashville" is truly the best of the city, voted on by the people who live here. Readers choose and vote in categories on everything from Best Karaoke Bar to Best Attorney to Best Dog Park. Never say Nashville isn't interesting!
This year's winners were honored on October 12 at Geodis Park, home of the Nashville Soccer Club. The theme for this year's party was "Out of This World."
Our commitment to you
When you work with Rocky McElhaney Law Firm, you don't get "just" an attorney. You get an entire team of experienced litigators who work with you throughout every step of the process. Rocky answers all of your questions, keeps you informed, and helps you feel confident and assured that justice will prevail. Throughout his two decades of practice, Rocky has kept up with new technologies, new ways of approaching the law, and new strategies – all to better serve his clients.
Both defense attorneys and insurance companies fear and respect Rocky, for good reason. He works hard to achieve the best possible results for his clients, and his track record speaks for itself:
$4,500,000 TRIAL COURT JUDGMENT in a dram shop / liquor liability case against two bars located in Nashville on 2nd Avenue.
$4,000,000 SETTLEMENTfor a construction worker client who suffered life-threatening and life-changing burns in an industrial work site explosion.
$2,000,000 SETTLEMENTfor a client who sustained life-threatening injuries after being thrown from a vehicle.
$1,638,561 JURY VERDICTfor the widow and family of a man who was struck and killed while using a cross-walk in the Hillsboro Village area of Nashville.
Again, Rocky is so humbled and proud to be named Nashville's Best Attorney for eight years running. Thank you again, Nashville!
If you'd like to schedule a free consultation with Rocky or any one of our attorneys, in any of our offices located in Nashville, Hendersonville, and Clarksville, call 615-425-2500, or complete our contact form today.