Metro Council Puts the Brakes on Loosely Regulated Low Speed Vehicles on Nashville Streets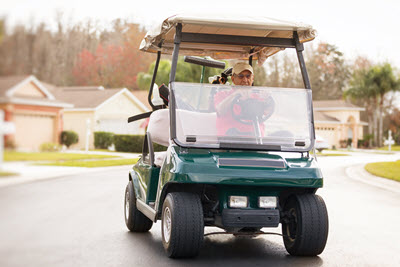 With a bustling tourism industry from downtown to Division Street and beyond, Nashville has felt a boom of entrepreneurial gusto especially in the arena of inventive transportation.  At first glance, it can seem like any guy with a golf cart can slap a sign on the back and start picking up and dropping off tourists for money.  Though the views are often better, the fares are lower for short distances and the sense of adventure is stronger than it is with a taxi, all of those things may come at a higher price if you're not careful.
What are low-speed vehicles?
By definition, any four-wheeled electric or gasoline-powered vehicles, excluding golf carts, with a top speed of greater than 20 miles per hour are considered low-speed vehicles (LSV).  These vehicles are not permitted on streets with greater speed limits than 35 miles an hour and may not exceed a speed of 30 mph.
What are low-speed vehicle services and golf cart taxis?
Low speed vehicle services in Downtown Nashville and surrounding neighborhoods have been largely unregulated since they've emerged within the last few years- until now.  Metro Council recently passed an ordinance that puts the brakes on LSV services requiring them to follow stricter guidelines on Nashville roads.
Reputable Nashville low speed vehicle services, like Joyride, which is among some of the cities "friendly neighborhood transportation services," was actually called upon by Metro Council to help put the new rules together.  These regulations require driver background checks, yearly inspections, a lower max speed, personal injury and liability insurance, ban any passenger alcoholic beverages from the vehicle, require one seat belt per passenger and call for a clearly displayed fare charge card in the window.
Grant Rosenblatt owner of Joyride, told WKRN Channel 2 News that though he's already in compliance with most all of the requirements under the new ordinance that he is still very much in support of it because of the safety of passengers who may be riding with his competitors.  The concern that some of the pop-up local LSV services may not be taking basic safety measures for their passengers or others on the road; whizzing along in bike lines, using unauthorized streets, and letting passengers ride without seat belts.  Though these vehicles feel more like an amusement ride, they can still cause a serious accident on the road and under high impact collision passengers have a high probability of being fatally injured do to the little protection that low-speed vehicles generally offer.
What should I look for when choosing a low-speed vehicle service?
It doesn't require a lot of effort on your part to be smart about which LSV transportation company you choose.  Look for Metro Council permits in the window, clean, alert drivers, and seat belts.  As a driver sharing the road with an LSV, it's important to have patience, be cautious, and remember that they have to follow the same rules of the road as a regular automobile.  If you happen to see one in the bike lane, driving on the shoulder, or riding on a street with a higher speed limit, it's definitely in violation of the law and should be reported.
If you or a loved one has suffered a serious injury as a result of riding on a low-speed vehicle or were involved in an accident with one, give us a call.  The experienced Nashville attorneys at Rocky McElhaney Law Firm have an understanding of the most recent codes and ordinances surrounding these relatively new additions to Tennessee metropolitan roadways.  We have the know-how and the skills to take care of our clients and fight for the damages that they deserve for their injuries.  Give us a call today (615) 425-2500.