Motorcycle Safety Awareness Month Reminds Us to Share the Road Safely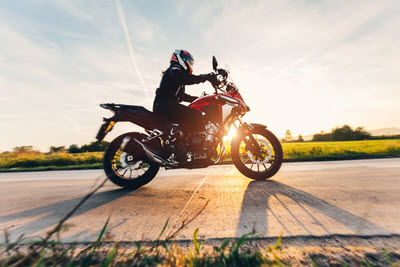 May is here and the weather is warming up. That means there will be more people out on the road, whether they're heading out for a day of fun out at Cook's Landing or coming home from a spring hike at Long Hunter State Park. May is also, perhaps not uncoincidentally, Motorcycle Safety Awareness Month. It makes sense that more motorcyclists will be out on the road, as motorcycles are a fun way to enjoy warm weather.
That means other vehicles around the motorcyclists will need to pay special care to the road and those around them. Motorcycles are small vehicles that can easily be overlooked or missed in a blind spot. When drivers of motorcycles get into accidents, it can leave them severely injured, and can even be fatal as they have less protection from the road and other vehicles. Today, we will offer advice on what you can do to ensure that you do not get into an accident with a motorcyclist.
What are the facts on motorcycle accidents?
Tennessee is in the top twenty states for motorcycle registrations, with 177,270 motorcycles registered in the state in 2020. In 2021, there were 299 motorcycle crashes in Davidson County alone, which is more crashes than in any other county in Tennessee for that year. In fact, since 1998, motorcycle crash fatalities have gone up every year, with the most recent data reporting 171 fatalities reported in 2021. To compare, in 1998, there were only 42 fatalities reported. This increase is not restricted to just Tennessee.
In the United States, according to the National Highway Traffic Safety Administration (NHTSA), "in 2020, there were 5,579 motorcyclists killed in traffic crashes, an 11% increase from 2019 (5,044). In contrast, an estimated 82,528 motorcyclists were injured, a 2% decrease from 83,814 motorcyclists injured in 2019. Motorcyclist deaths accounted for 14% of the total highway fatalities that year."
The NHTSA's data also shows that amongst all crashes in the United States, motorcycle crashes and their fatalities are greatly overrepresented each year. In 2020, motorcyclists were 28 times more likely to die in a crash than any passenger vehicle occupant, and four times more likely to be injured in a crash.
The research detailed that a significant portion of the motorcyclists killed in 2020 were aged 55 years or older, and that most of the crashes occurred on weekends rather than weekdays, though weekday crashes are becoming increasingly more common.
What can I do to avoid crashes with a motorcycle?
To lower the fatality and crash statistics for motorcyclists, we all need to pay extra attention to the road and our fellow motorists. Some things you can do to make the roads safer for motorcycle riders – and for yourself and other drivers – include:
Stay sober behind the wheel: Drinking lowers your inhibitions, and affects your reaction times, judgment, and motor control. You are more likely to not check your mirrors, to signal correctly. Those around a drunk driver cannot predict what that driver will do, and this is especially dangerous to motorcyclists as they have less protection between them and the swerving drunk driver.
Put your phone away: Research funded by NHTSA shows that drivers of passenger vehicles are distracted more than 50% of the time. Whether the driver is distracted by their phone, music, or the kids in the backseat, it doesn't matter. Taking your eyes off the road for even a few seconds can put a motorcycle rider at grave risk of injury.
Slow down: When you are driving behind a motorcycle, always allow for at least three to four seconds of a follow distance. This gives motorcycles space and time to maneuver around hazards in the road such as potholes, and gives them time for any emergency braking. The NHTSA states that "one's reaction time and ability to assess and respond to a potential collision, such as a lane change, is significantly hindered if there are large differences in speed among vehicles in traffic. When approaching a congested roadway, being diligent in modifying your speed to match that of the cars in traffic can be a lifesaver, particularly for motorcyclists. stop in an emergency."
Be aware of your blind spots: Motorcycles are well known for being overlooked when in somebody's blind spot, and their vehicle is much smaller than a passenger car. Make sure to utilize your side and rear view mirrors, and look over your shoulder when changing lanes.
What are some tips for Nashville motorcyclists?
While we want to focus mostly on how drivers can avoid crashes with motorcycles, it is important for bikers to take precautions as well. Make sure that you are wearing the appropriate and correct protective gear. The NHTSA "estimates that helmets saved the lives of 1,872 motorcyclists in 2017. An additional 749 lives could have been saved if all motorcyclists had worn their helmets."
Slow down, too. It may be thrilling to speed your motorcycle down a road, but "thirty-four percent of all motorcycle riders involved in fatal crashes in 2020 were speeding, compared to 22% for passenger car drivers, 16% for light-truck drivers, and 7% for large-truck drivers. Motorcycle riders 25 to 29 years old involved in fatal crashes had the highest speeding involvement at 45%."
How can a Nashville motorcycle accident lawyer help me?
At the Rocky McElhaney Law Firm, we have experienced attorneys who can help you if you were in a crash with another vehicle while driving your motorcycle. If you were injured due to someone's negligence, we can help. We fight to ensure that your medical bills – past, present, and future– will be compensated, as well as any physical therapy, and pain and suffering. If a loved one was killed in an accident while they were operating their motorcycle, our compassionate wrongful death lawyers will fight for compensation for the loss of your loved one, ensuring that all funeral costs are covered.
We want spring to be a fun time for everyone, including motorcycle riders and passengers. Call our experienced and dedicated Nashville motorcycle accident attorneys at Rocky McElhaney Law Firm if you get hurt in a wreck: 615-425-2500, or you can fill out our contact form. We can set up a free consultation with you at one of our offices in Nashville, Hendersonville, or Clarksville.