Kia Recall:  Manufacturer Tells Owners to Park Outside Due to Fire Risk
Kia recalls 71,704 Kia Sportage crossovers in the U.S. due to an electronic control unit can short circuit and lead to a fire.
The improper sealing of a wire harness cover used for the hydraulic electronic control unit can allow for moisture to enter the module. If the water is contaminated with road salt, it can cause an electrical short.
"If the HECU circuit board experiences a short circuit, a thermal event can result, including the possibility of an engine compartment fire" recall documents warn. "However, the presence of salt water in the HECU does not affect brake performance."
Kia began an investigation into the problem in April 2016 after it received a report that a 2008 Sportage caught fire while parked in a driveway that month. In another complaint submitted in 2013, the owner of a model year 2009 Sportage said the vehicle caught fire without warning.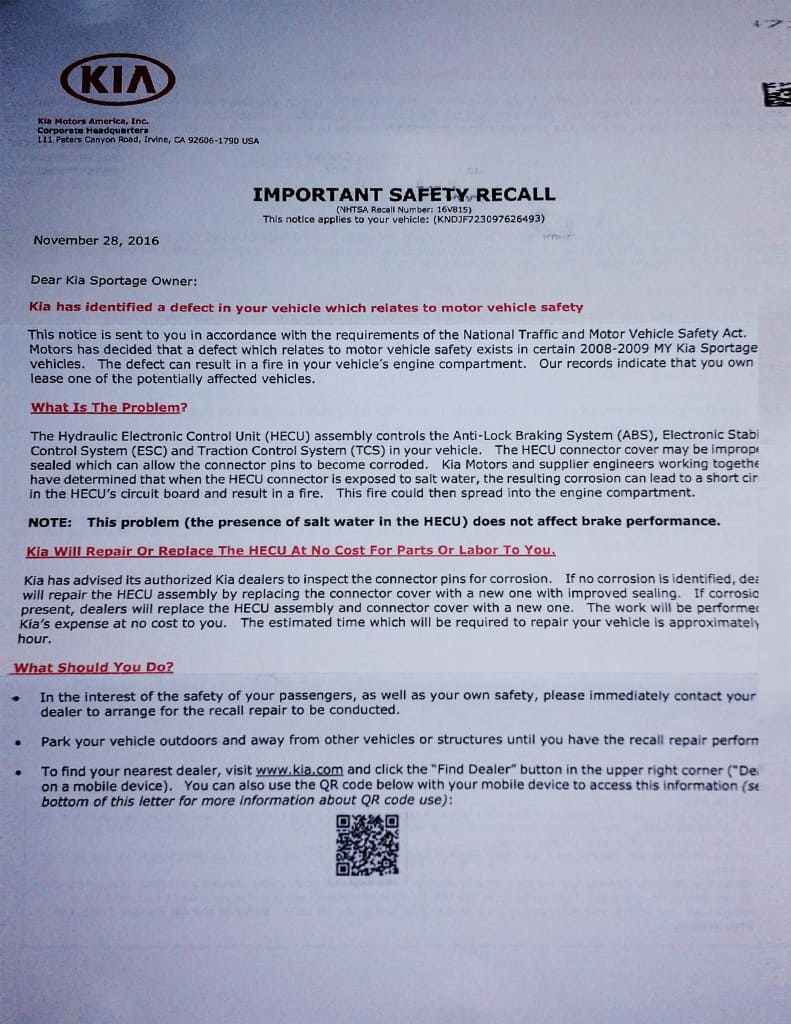 Government documents state that other fires have occurred while Kia was in the process of investigating. According to the NTHSA, it was unclear yet if there were any injuries as a result of these incidents but the automaker sends an ominous message warning owners to park their vehicles outside until they can take their car in to service the recall.
This recall officially began on November 28, 2016.  But many owners are just now receiving letters from the automaker.  What's even scarier is those owners with used vehicles purchased from an individual seller rather than an auto dealer may never receive a recall letter in the mail.  The recall covers Sportage models from 2008 and 2009.
Service technicians will replace the connector and inspect the HECU assembly, replacing it if damage has already occurred. If there's no rust or corrosion, they'll replace the unit's cover.
Defective vehicles and vehicle parts can result in devastating consequences for drivers, their passengers, and others on the road.  We've seen individuals suffer debilitating injuries and lose loved ones from crashes and incidents that were caused by these kinds of defects.  We work every day to send a message to vehicle manufacturers that they will be held accountable for the losses caused and we push for better reporting standards legislation.
If you or someone you know has been injured because of a defective vehicle, you may be entitled to compensation for your injuries and lost work. Contact the experienced Nashville defective products attorneys at Rocky McElhaney Law Firm today for a free consultation. We fight for justice.  We fight for you! (615) 425-2500