Rocky McElhaney Honored in Nashville Post's Annual InCharge Leaders Issue
On March 2, Nashville Post Leaders magazine, the city's foremost news source for business and politics, named Rocky McElhaney to their annual InCharge list. This hand-picked hot list honors a compendium of Middle Tennessee's top business trailblazers, civic innovators and trendsetting companies directing growth across the mid-state.
Thursday night's list announcement culminated in a reception at the historic downtown Union Station where honorees across several fields and categories including music, arts, manufacturing, non-profits, technology, real-estate, sports and of course, the legal industry gathered to raise a glass to the year's ground-breaking accomplishments.
This is Rocky's first year on this prestigious list and it is quite a feat as the Post's editorial staff historically selects lawyers who specialize in representing powerful conglomerates in legal fields like corporate defense, bankruptcy, investments and healthcare law.  Rarely is a personal injury lawyer (someone who makes a living fighting on the opposing side of the table as many of the other honorees) chosen to grace the pages of InCharge's legal category. But no matter what side of the table you're on, it's increasingly hard to ignore the impact Rocky has made in the Nashville business community as an entrepreneur, an employer, a cultural trendsetter and a civic leader.
In the Culture Club
Through Rocky's charismatic, we-mean-business TV commercials coining the phrase "We Fight For You" and "Best Matters" billboard campaign created to amplify his two-time win as "Best Attorney in Nashville," Rocky and his team of "gladiators in suits" have been inducted into Nashville's rich, local, pop-cultural subtext.  But those red boxing gloves dangling from Rocky's logo are more than just a well-calculated move by an image development firm; to Rocky and to the thousands of folks that he's helped over the last 17 years in practice, those gloves represent a battle for real justice.
Rocky says what sets his firm apart from other personal injury firms which he calls "settlement mills" is a set of qualities that are invaluable to both his clients and his employees. "This firm and my career were forged out of passion- out of trying to do the right thing and make a difference for people like my dad."  McElhaney is talking about the financial struggles his family endured while he was growing up after his dad got hurt at work.  "A lawyer stood up for my dad against the insurance company."  McElhaney says it ignited something in him and he knew then that helping real people fight against the powerful was his calling.
Putting Passion to Work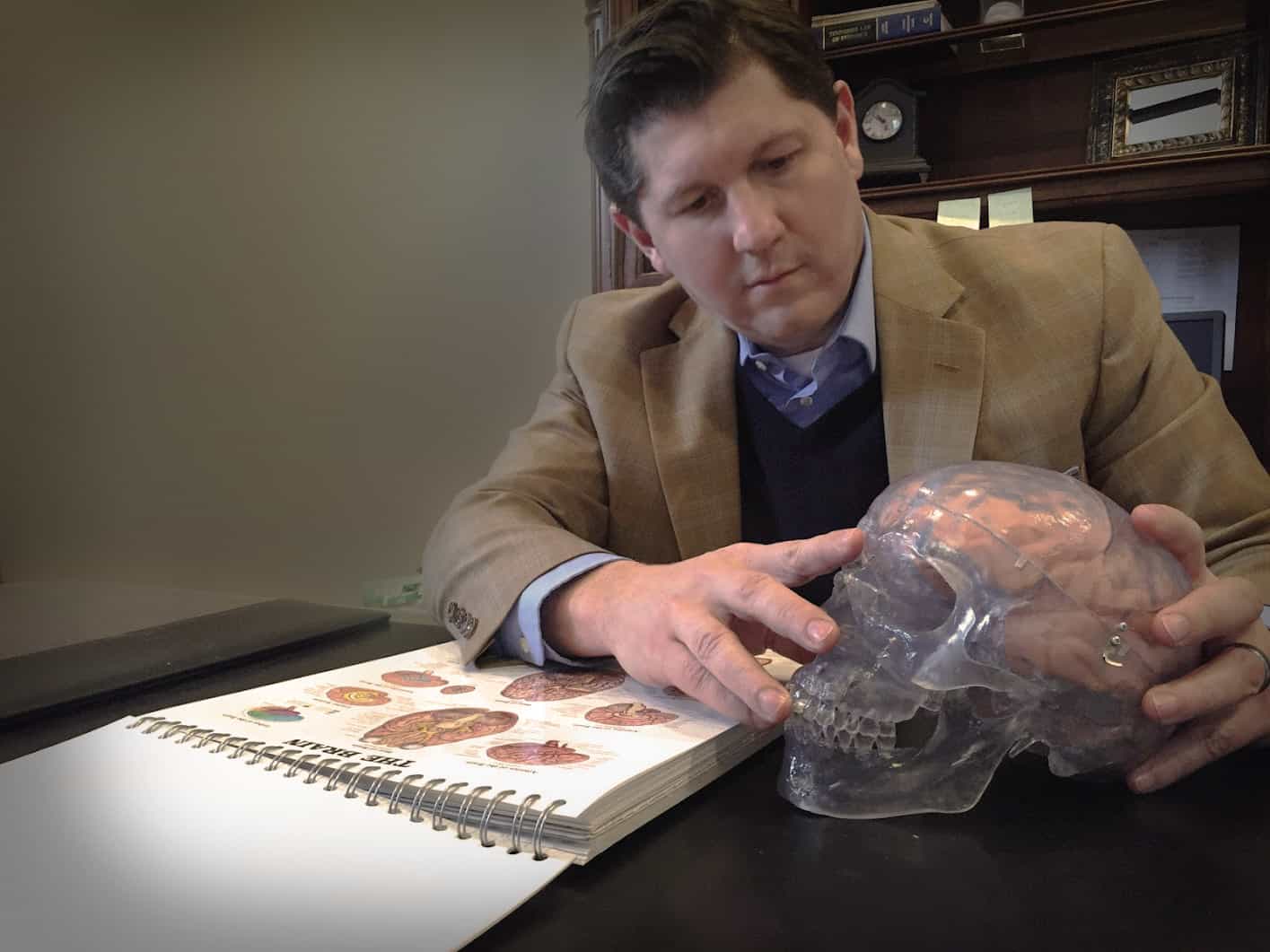 That genuine passion has led McElhaney to put people before profits many times over the years.
That passion has led him to win landmark verdicts which wrote new workers' compensation law in Tennessee and enabled thousands of injured workers' to seek additional recoveries for life-altering injuries.
In 2013, that passion led the full-time founder/CEO, boss, husband and dad to spearhead an all-consuming fight against attacks from corporate lobbyists on existing work comp legislation that proposed to strip workers of vital financial recoveries, deny injured workers their day in court and make them easier to fire.
Rocky's passion to never settle and to always push for the maximum recovery for his clients earned him distinctions with the Multi-Million Dollar Advocates Forum, National Trial Lawyers – Top 100 Trial Lawyers, Super Lawyers Top 50 and has held him in high regard with clients across Avvo where he is ranked with a 10.0 in the Personal Injury category.
In the last two years Rocky has applied some of that passion to helping local charities like Hendersonville C.A.R.E.S., Toys for Tots, Christmas for the Children, the Susan G. Komen Race for the Cure, and Sumner County C.A.S.A. (Court Appointed Special Advocates).   He believes the community service strengthens morale and fulfils the firm's mission of helping people.  He's founded scholarships and financially supported local schools, teachers and athletic teams desperately in need of funding.  "It's true what Zig Zeigler wrote years ago.  We can get anywhere in life we want to be if we help enough people get where they want to be."
Leading by Example
Rocky's passion doesn't stop with his clients or his causes.  He extends that same circle of protection and spirit of generosity to his own team members.  This 3-time Nashville Business Journal Best Places to Work winner understood early that to build the kind of practice he envisioned he had to first take care of his firm's greatest asset – its employees.
Rocky made a commitment that he would always provide high-quality benefits, including company-paid health insurance. Despite insurance costs rising, McElhaney has never rolled back on his promise.  "Many local firms our size don't even offer insurance, let alone add dental, vision and disability like we do.  I'm proud of that," McElhaney says.
In addition to those outstanding perks, Rocky also provides team members with a gracious paid maternity leave, long-term disability insurance, profit sharing, flex time, 3-5 weeks of annual paid leave on top of paid vacation, office-wide annual bonuses, and paid-for workout classes during the lunch hour.
On the Eve of Expansion
Growing up, Rocky watched his parents scramble to make ends meet.  He learned that if you work hard, you can make it.  Most would say that Rocky McElhaney has done more than just "make it."  He has become a statewide sensation.
His regional presence and personal touch has helped him grow a two-person law firm to a 20-person law firm with three office locations statewide. "It's been both exciting and scary to set our short-term and long-term goals because we seem to blow past them at a skyrocketing pace."  McElhaney's eye for expansion led him to break ground on a 12,500 square foot state-of-the-art complex in Hendersonville late last year.
Soon after the grand opening of the Hendersonville office this Spring, his efforts will be full steam ahead toward expansion from a current satellite office in Knoxville to a full-fledged brick and mortar.
For a small-town kid from Morristown, Tennessee Rocky says "I think I've done pretty good, but I'm not done yet." Though the firm has yet to set its compass on an out-of-state location, an optimistic McElhaney says, "Anything is possible."
The Rocky McElhaney Law Firm is a renowned personal injury firm serving clients throughout Tennessee and Kentucky. The firm maintains multiple offices in Nashville, Hendersonville and Knoxville. The attorneys primarily practice in the following areas:
•

Personal injury

•

Auto accidents

•

Truck accidents

•

Traumatic brain injuries

•

Traumatic spinal cord injuries

•

Workers' compensation

•

Child and Birth Injuries

•

Defective products litigation
If you or someone you loved has been injured or killed due to a person or company's negligence, contact the experienced attorneys at the Rocky McElhaney Law Firm today at (615) 425-2500.  We fight for you!