Rocky McElhaney Takes Home 6th Straight Win for "Best Attorney" in Scene Magazine's Readers' Poll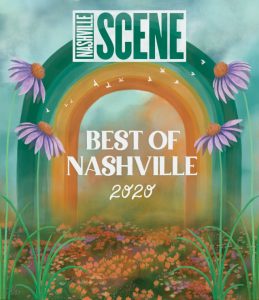 2020 has been a little rough on Nashville this year, and we've been feeling that a bit. So we really, really needed some good news.
And oh, my goodness – did y'all deliver the BEST NEWS EVER! Rocky McElhaney Law Firm has been named the Best Attorney for the sixth consecutive year in Scene Magazine's "Best of Nashville" Annual Readers' poll. We are absolutely over the moon about this win, and yet so incredibly humbled and grateful to have been named the best by all of you once again.
"It means so much to our firm that people still went online to vote and cared enough about local businesses like our firm," Rocky McElhaney said. "We attribute one of the reasons why we've won every year for six years, to the fact that RML is in a constant state of evolution. We're not some stick-in-the-mud, stuffy downtown law firm with antiquated technology and zipped-lip client relations. We still treat our clients like family and want each client to feel like they are our only client."
Changes made for 2020
In an effort to remain the best law firm in Nashville in 2020, our firm has implemented a slew of changes, including:
We Made Strides to Keep You in the Know. We improved privacy, safety protocols, and security technology to protect our clients' information but allow them digital access to it for updates at their convenience.
We Upgraded Our Tech. We upgraded to some state of the art legal case management software to improve productivity and expedite the resolution of cases.
We Embraced Our Strengths. We've adopted specialized management teams to help to better assess and ensure client satisfaction, answer questions, give updates, get feedback, assist in the acquisition of bills and records to help build cases quicker, creating a compassionate legal intake team to shoulder the calls from those reaching out to the firm for help.
We Prepared and We Persevered. Prior to COVID hitting the US, RML assembled an executive pandemic response team to map out our plan for continuing to serve our amazing clients through the worst of times. Though the courts were closed for a time and our insurance company opponents began dragging their feet more than usual during the height of the virus, we kept our eye on the ball. We worked remotely from home and from the office as needed taking video depositions, handling hearings through video conferencing, pushing papers, settling cases, and continuing to bring hope to our clients despite the lockdown (that left so many other law firms upside down).
Choosing the best attorney makes a difference
Choosing the best personal injury attorney to handle your case makes a big difference in the outcome. We have been named the best in Nashville each of the past six years for many reasons: legal know-how, trial experience, use of technology, industry reputation, results, and sheer passion for what we do.
Our clients have voted time and again naming us the Best Attorney in Nashville and we are eternally grateful for the support. Thank you so much, Nashville, for your continued love and support!
To schedule your free consultation with one of our Gladiators in Suits, in any of our offices located in Nashville, Hendersonville, Knoxville, and Clarksville, call 615-425-2500, or complete a contact form online today.