Rocky McElhaney Law Firm Named "Best Places to Work" for the Seventh Time!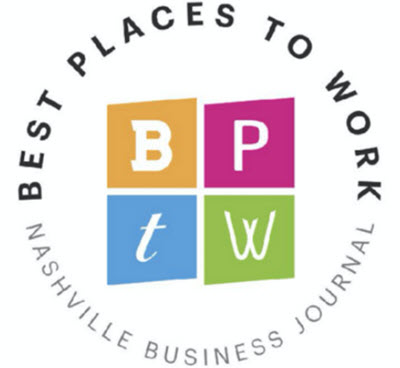 Great news from the office! I'm honored to announce Rocky McElhaney Law Firm has once again been named one of Nashville Business Journal's Best Places to Work. This is the seventh year our firm has been selected for inclusion, and we are absolutely thrilled!
The Best Places to Work award "recognizes companies in Middle Tennessee that strive to maintain a work-life balance, have fun and have a great team mentality. Nominations are accepted from the public, and employees of nominated companies are asked to complete an online survey conducted by Quantum Workplace." This survey measures six key areas of employee engagement, including:
Trust in leaders
Communications and resources
Individual needs
Personal engagement
Team dynamics
Manager effectiveness
To be eligible for the Best Places to Work award, a company's branch offices must be located in one or more of the 10 counties that make up the greater Nashville area, including Cheatham, Davidson, Dickson, Maury, Montgomery, Robertson, Rutherford, Sumner, Williamson and Wilson counties. Companies also must have at least 10 employees.
Companies that have won 10 consecutive years will be inducted into the "Best Places to Work 10-Year Hall of Fame Award" – and we are excited to report that we are now more than halfway there!
The absolute best place to work in Nashville
Our staff are the firm's most valuable asset. Being selected for Best Places to Work is a sign we're continuing to do our best for our staff. This past year in particular has been challenging for all of us. Without the dedication and hard work from an exceptional team, we would not have been able to continue serving the people of Nashville, and we're so grateful.
An excellent law firm starts with excellent people, and Rocky McElhaney Law Firm fosters top and diverse talent. The firm has always offered all-inclusive healthcare benefits, such as long-term disability and paid maternity and paternity leave, plus matching 401(k) and annual bonuses. Over the last year, we have strengthened our infrastructure, hired nearly a dozen team members to help better support our clients and our staff, and focused on job specialization so that every firm member is doing what he or she does best.
We also understand that in order to be productive, people need time away from the office to rest and recharge. We offer nearly four weeks of paid vacation, complimentary memberships at local fitness centers (and complimentary healthy snacks at our offices!) as well as team-strengthening and community outreach events and programs.
This past year has been, in no uncertain terms, chaotic. We have weathered storms, tornadoes, and a worldwide pandemic. But throughout it all, we have managed to keep our offices up and running, we have remained safe and healthy, and we have all kept our jobs.
Once again, we are excited and grateful to win the 2021 Nashville Business Journal's Best Places to Work award for the seventh year running. Thank you to the Nashville community!
And if you need a fighter on your side, Rocky McElhaney Law Firm is ready to help! Call our office at 615-425-2500, or complete a contact form to schedule a consultation. We have offices in Nashville, Hendersonville, and Clarksville.
Nashville personal injury attorney Rocky McElhaney is a well-known and respected lawyer as well as published author, helping Tennesseans through difficult times since the turn of the century. Rocky builds friendships with his clients, not just professional relationships. Rocky McElhaney is a Super Lawyer, AV Rated by Martindale Hubbell, has been named a Top 100 Trial Lawyer by the National Trial Lawyers Association and has been awarded Best Lawyer in Nashville by the Nashville Scene Readers' Poll
The Rocky McElhaney Law Firm represents people who have been injured by car accidents, truck accidents, motorcycle accidents, negligent premises owners, defective products and many other forms of negligence throughout the state of Tennessee. The firm also represents clients in the areas of workers' compensation and Social Security Disability claims.