What Are My Rights if I'm Hurt While Driving for Uber or Lyft?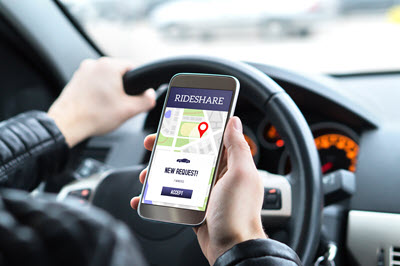 Most discussions about Uber and Lyft accidents involve injuries to the rideshare passengers, and injuries caused by a rideshare driver. The reality, though, is that many Uber and Lyft drivers are injured on a regular basis, too, and some may die as a result of those injuries. The rights of rideshare drivers vary depending on whether the driver was looking for work, was on their way to pick up a passenger, or had a passenger in their car.
Basically, every rideshare driver has two insurance policies:
Their personal policy, which every driver is required to have under Tennessee law.
A company policy provided by Uber and Lyft, which applies under very specific circumstances.
If a car accident occurs while the driver is not working as a rideshare driver, the driver looks to his/own policy for liability coverage. So basically, if you're an Uber or Lyft driver and you get hurt on your way to work or the grocery store, your own insurance policy comes into play. If an accident occurs while the driver is on duty as a rideshare driver, then Uber/Lyft's coverage can be used.
Note: If you drive your own vehicle, you should consider obtaining commercial insurance coverage through your own carrier for a few reasons. First, you want to make sure that you have enough coverage in the event of a serious injury or a total loss to your car. Second, you want to make sure that using your car as a rideshare vehicle won't negate your claim for coverage.
Who pays for the damage to the driver's vehicle?
It depends on what type of insurance the driver has on his/her own vehicle and who is responsible for the accident. Uber and Lyft offer the same amounts of insurance, so the following numbers apply to both companies.
If a driver is available or waiting for a ride request, and their own insurance coverage doesn't apply, Uber/Lyft will pay $25,000 in property damage per accident.
If the driver is en route to a passenger, or has a passenger in the car, Uber/Lyft will pay up to $1 million in total covered liability, including:

Contingent comprehensive and collision
Up to actual cash value of car with a $2,500 deductible
If fault is not clear or the rideshare driver was negligent, then he or she can be paid for collision damage through Uber or Lyft. In this set of circumstances, Uber/Lyft pays for the cost to repair the vehicle subject to a $1,000 deductible. (The driver is responsible for the $1,000 deductible.)
Does Uber/Lyft pay the driver's medical bills if there is an accident?
Uber/Lyft offer the following for medical bills in the event of a crash:
If a driver is available or waiting for a ride request, and their own insurance coverage doesn't apply, Uber/Lyft will pay $50,000 per person/ $100,000 per accident for bodily injury.
If the driver is en route to a passenger, or has a passenger in the car, Uber/Lyft will pay up to $1 million in total covered liability.
In the immediate moments after a wreck, though, when you need help fast, your own health insurance pays for the hospital, surgery, specialist, therapy, and other medical bills. You can use your car insurance if you want – if you opted to add Medical Payment Auto Insurance, or Med Pay, this is a good option – but don't let the hospitals force you into using it if you have health insurance.
If you don't have coverage or don't have enough coverage, our Nashville car accident lawyers work to make arrangements with the driver's health providers. The arrangements, called Letters of Protection, generally result in the health provider agreeing to wait until the personal injury case settles or there is a jury verdict. When the car accident case is resolved, the health providers are paid first before the driver receives any money.
What happens if the driver who struck the Uber/Lyft driver was uninsured or a hit and run driver?
If an Uber/Lyft driver is en route to pick a passenger or has a passenger in his/her vehicle, then the driver (and passenger) can seek payment from Uber's/Lyft's uninsured motorist policy. Uber and Lyft drivers can also demand payment from the UM/UIM policy if the driver who caused the accident is a hit and run driver.
UM/UIM does not apply if the Uber/Lyft driver is just looking for a passenger. Generally, Uber is required to have $250,000 in UM/UIM coverage. This coverage applies to the driver and passengers combined.
Can an injured rideshare driver file a personal injury lawsuit after a car accident?
An Uber/Lyft driver always has the right to file a personal injury claim against another driver who causes an accident (whether the driver is on duty or not). In a personal injury claim, the driver demands compensation for the following:
Medical bills. These expenses include the cost of ER care, hospital care, surgeries, diagnosis and treatment by physicians, treatment with physical therapists and other therapists, the cost of assistive devices, and medications.
Lost income. The injured driver can claim damages for any lost wages or lost business income for as long as they cannot work at full capacity.
Pain and suffering. This is often the largest part of the personal injury claim. Drivers are entitled to compensation for all their daily physical aches and pains and emotional anxiety.
Scarring and disfigurement. This expense includes the cost of skin grafts, plastic surgery, psychological treatment, and emotional scarring.
Loss of consortium. This amount is for the inability of the spouses to enjoy each other's company and intimacy due to the accident.
In some cases, such as drunk driving accidents, the driver may be entitled to punitive damages.
If a rideshare driver is accidentally killed by another driver, the family of the rideshare driver can seek wrongful death damages. In Tennessee, wrongful death damages generally include funeral bills; the lost financial support the driver would have provided the eligible family members; and the loss of guidance and support the decedent would have provide the family members.
Generally, the filing of a personal injury claim does not matter (from the rideshare driver's perspective) whether the driver was en route to pick up a passenger, had a passenger in the vehicle, or was driving while the rideshare app was off.
At Rocky McElhaney Law Firm, our car accident lawyers have been fighting for Nashville, Hendersonville, and Clarksville injury victims for 20 years. We have an impressive track record of six and seven-figure results in numerous cases. We represent drivers, passengers, pedestrians, and bicycle riders who have been injured in a car crash. We fight for spouses, children, and parents when a loved one tragically dies due to driver negligence. To discuss your Uber or Lyft driver claim or any other car accident claim, call us now at  615-425-2500 or complete our contact form to schedule an appointment. We handle car accident claims on a contingency fee basis. We fight for you!