Rocky McElhaney Law Firm Knocks It Out of the Park for Gallatin CARES!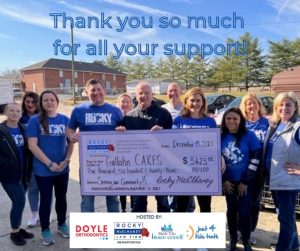 Rocky McElhaney Law Firm's annual fundraiser for Gallatin CARES was another huge success! This year, with the help of our partners, we raised $5623.00 for this amazing non-profit organization. So, we want to thank Music City Health Center, Just 4  Kids Teeth, and Doyle Orthodontics for their help this year. Thanks to them we were able to secure donations far and wide throughout the Sumner community.
We also want to thank everyone who gave monetarily or with a food donation to help those around you. It's not always easy to give, as many members of the community have suffered these past two years, but it's truly a show of generosity when we all come together and give what we can to our friends and neighbors.
The campaign ran from November 22, 2021 through December 15, seeing a tremendous turnout from the surrounding community. We accepted food and monetary donations. The money raised allows CARES to buy large quantities of food at much lower prices than what is usually available to the general public. This means that our collective donations went further to help Gallatin CARES get exactly the food items they needed to build more complete and nutritious food boxes for those they serve.
This year, RML and its partners offered multiple Hendersonville locations for drop-offs:
Rocky McElhaney Law Firm: 475 Saundersville Road
Just 4 Kids Teeth: 410 N Parrish Pl, Ste 1000
Music City Health Center: 261 Indian Lake Blvd, #140
Doyle Orthodontics: 410 N Parrish Pl, Ste 1000
What is Gallatin CARES?
Gallatin CARES (Christian Association for the Relief of Economic Suffering) started as a ministry and has become SO much more. Every year, it supplies more than 700,000 lbs. of donated food and more than 6,000 prepared, hot meals to vulnerable individuals and families in Gallatin and throughout Sumner County. It also runs a thrift store, and is raising funds for a shelter. This extraordinary organization is helping our most vulnerable community members, and we are proud to be a part of that.
And they need our help. Gallatin CARES is serving a significant number of people, and their donations are put to good use:
The thrift store allows people to purchase gently used clothing, household goods, and furniture at a fraction of the cost.
Any donated clothing that cannot be sold in the thrift store is instead sold to a third party, which processes the garments for use in building materials. That revenue, along with the revenue from the sales at the thrift store, funds the food pantry.
The food pantry and the Shelter Protection Benevolence Fund also rely on monetary donations from the community.
An organization near and dear to our hearts
Despite these times of struggle, Gallatin CARES forges ahead, continuing to help in any way they can. Their doors are always open to those in need. More often than not, the volunteers and employees who keep Gallatin CARES running all day, every day are taking money from their own pockets to keep those doors open. It is why we at Rocky McElhaney Law Firm hold this annual fundraiser. They need and deserve as much support as they can get.
And even though our fundraiser is over, you can still help:
Send donations through Venmo: @Gallatin-CARES.
Send a check to Gallatin CARES, 330 N Durham Avenue, Gallatin, TN 37066.
Designate Gallatin CARES as your charity of choice when shopping through Amazon Smile
Donate services or items directly to the thrift store or the food pantry.
'Tis the season for giving, and we can only hope that we are helping to make the Christmas season a happier one for the most vulnerable among us. Rocky McElhaney Law Firm is so proud to help this amazing group of people who care so deeply about the community.
This year, like last, Tennesseans have had some tough times, and with the recent storms, we expect more struggle ahead. That is why we want to thank everyone who donated to our fundraising efforts, and helped us support Gallatin CARES. We appreciate them and YOU.