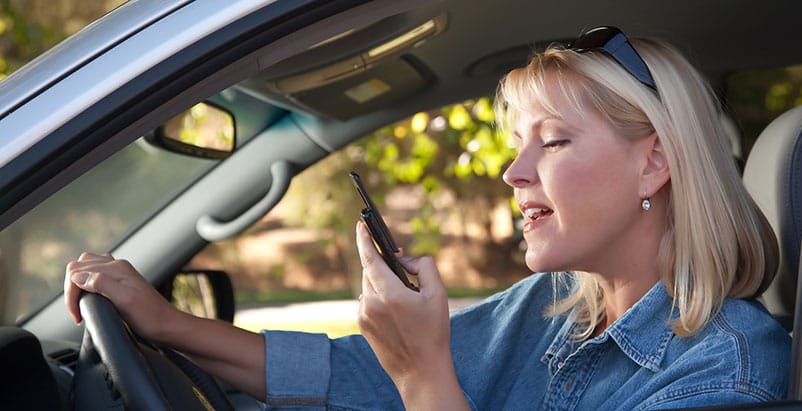 Distracted Driving Accident Lawyers in Nashville, TN
Our lawyers take on tough cases involving texting while driving and other forms of distracted driving
We've all seen the "distracted driver" in action while we're driving. If the polls are to be believed, a third of us have been the distracted driver at some point or another. At the Rocky McElhaney Law Firm in Nashville, we've seen first-hand the devastation that can occur when you're injured by a distracted driver. That's why our team of accident attorneys takes pride in holding distracted and negligent drivers accountable for their actions.
When you're injured by a distracted driver, you want an accident lawyer who fights aggressively on your behalf. Let us handle the fight so you can focus on getting well.
What constitutes distracted driving?
There's been a push both in Tennessee and across the country to ban texting while driving. The truth is anything that keeps a person from focusing on driving counts as a distraction. The more common causes include:
Talking on a cell phone, with or without a headset or Bluetooth
Using a CB radio
Listening to music while using ear buds or headphones
Reading a book, newspaper, tablet, smartphone or map while operating the car
Eating or drinking
Putting on makeup or shaving
Any time you divide your attention between driving and performing another activity, you're at risk of a car crash. Tennessee has banned talking on cell phones completely for both new drivers and for bus drivers in an attempt to lower the amount of car and truck wrecks related to distracted driving, but many drivers still break those laws every day. When they do, they increase your chance of being seriously injured because of their negligence.
A sobering look at the effects of distracted driving
The National Safety Council's latest study claims that Tennessee has the most distracted drivers in the country. More than 10% of all fatal accidents in our state are caused by cell phone usage. At the Rocky McElhaney Law Firm, we fight for justice and for compensation for clients who have:
Back and spinal injuries
Broken and fractured bones
Soft tissue damage
Internal bleeding and organ damage
Traumatic brain injuries
When these accidents are fatal, we file wrongful death lawsuits on behalf of our clients whose loved ones paid the ultimate price.
A car crash can cause untold amounts of physical, emotional and psychological damage. We know how stressful it is when you're worried about paying the medical bills or losing your job because of your injuries. We are tenacious litigators who stand up to insurance companies that don't want to pay you the money you need to recover. We work with field experts, medical professionals and law enforcement to build a rock-solid case against the negligent driver who caused your pain and suffering. At the Rocky McElhaney Law Firm, we never stop fighting for you.
Frightening facts about teenage drivers and distracted driving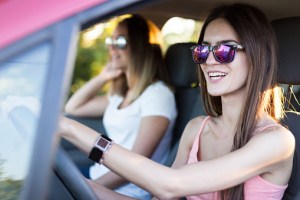 Driving carries significant risk for young drivers because of their inexperience and propensity to be distracted. Parents of teens have a responsibility to teach their young drivers how to be safe drivers by establishing ground rules for when they are behind the wheel, and making sure that they have enough supervised practice time before they go out on the roads driving unsupervised. The National Safety Council (NSC) reports that about half of teens will be involved in a car crash before they graduate from high school.
The AAA Foundation for Traffic Safety reports that more than 5,000 people have been killed in traffic crashes involving teen drivers during the period that begins on Memorial Day and ends on Labor Day –the 100 deadliest days of the year for teen drivers. About 60 percent of those crashes involving teen drivers were caused by distractions behind the wheel. During the 100 deadliest days, an average of 1,022 people die in crashes involving teen drivers, and the average number of deaths from traffic crashes increased by 16 percent for drivers between the ages of 16-19 (as compared with the other days of the year).
Researchers from AAA in collaboration with researchers at the University of Iowa analyzed video of the moments before a crash in more than 2,200 videos shot with dash-mounted cameras. They compared the results of the footage captured during the years of 2007-2012 and identified trends in the top three distractions for teen drivers in the moments leading up to a crash:
Talking to passengers in the vehicle (15 percent of crashes)
Talking or texting on a mobile phone (12 percent of crashes)
Attending to or looking at something outside of the vehicle (11 percent of crashes)
Hurt by a distracted driver? Put our experience to work for you
The Nashville-based Rocky McElhnaey Law Firm protects the rights and the futures of people just like you, who were injured by distracted drivers. We don't stop fighting until we know your future is secure. To schedule a free initial consultation at Nashville's premier personal injury firm, please call 615-425-2500 or fill out our contact form. We help people throughout Tennessee, including injury victims in Columbia, Knoxville, Kingsport, Memphis, Chattanooga, Murfreesboro and Hendersonville.