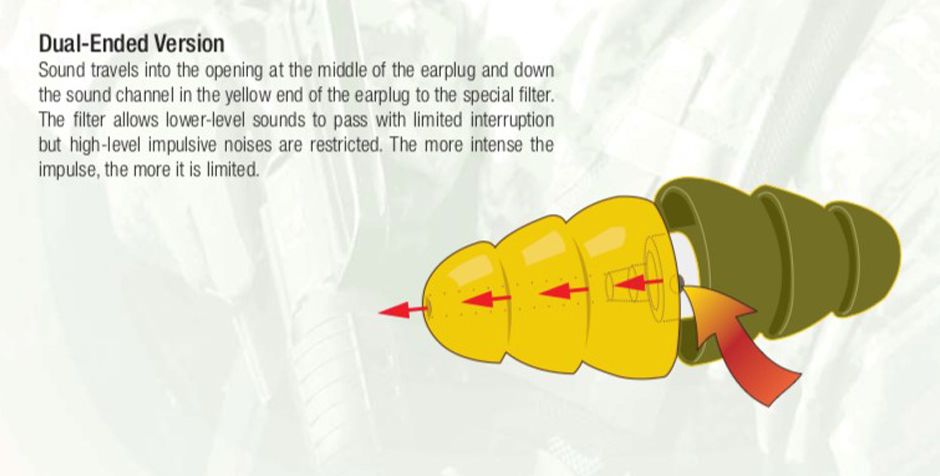 Nashville Injury Lawyers Handling Defective 3M Earplugs Claims
Representing Tennessee veterans and civilian contractors injured by Dual-Ended Combat Arms™ earplugs
If you were issued a set of 3M Dual-Ended Combat Arms™ earplugs between 2003 and 2015, and sustained hearing loss or hearing damage as a result, Rocky McElhaney Law Firm wants to hear from you. Our team is proud to represent veterans and civilian contractors who are in Clarksville, who have been hurt by the defective earplugs 3M knowingly sold to the U.S. government. To schedule a free consultation with an experienced product liability lawyer, contact us in Nashville, Hendersonville or Knoxville today. Let us fight for your future.
3M Dual-Ended Combat Arms™ earplugs have a design defect
3M Dual-Ended Combat Arms™ earplugs are "selective attenuation earplugs." This means that the wearer can decide how much (or how little) sound to filter out.
If you put the olive-colored side in your ear, it's supposed to block all sound. This is the closed position. If you put the yellow-colored side in (the open position), then you can block loud noises, but you can still hear speech. These types of earplugs are ideal for soldiers, because they can block out the noise of the battlefield (or the noise of machinery), but still allow you to hear orders from your commanding officer – and hear any approaching combatants, too.
The problem is that the earplugs are too short to work correctly. The stem – that little piece in the middle – isn't long enough to get the earplug where it needs to be in order to protect your hearings. Because it's too short, it can loosen in the ear; the flanges flip back, and allow the sound to come in.
And because earplugs go inside the ear, there's no way to look at a 3M Dual-Ended Combat Arms™ earplug and realize the seal has been broken. As a result, soldiers who thought their ears were protected were running around with loose earplugs, and being exposed to decibels that are dangerously loud.
3M knew its earplugs were defective
The fact that the earplugs had a design flaw is bad. That 3M knew it had a defective product, and then sold it to the U.S. government for our soldiers anyway – well, that's fraud. And the story behind how the fraud became public is an interesting one, too.
Since 2003, 3M (and the predecessor company which created the earplugs, Aearo Technologies) had an exclusive deal with the U.S. government when it came to buying and selling their earplugs. A company called Moldex-Metric wanted in on the action, so they tried to create an earplug like 3M's. During the testing process, Moldex-Metric discovered that the length of the stem was too short: instead of the Noise Reduction Rating (NRR) of 22 decibels that 3M claimed its earplugs could provide, the actual NRR was 10.9 decibels – less than half. To add insult to injury, Moldex-Metric's testing showed that the yellow side – the "open" side – of the earplug actually amplified sound, not diminished it.
Moldex-Metric then filed a qui tam action under the False Claims Act, which alerted the government to the fraud perpetuated against them. The government then ordered 3M to pay $9.1 million to resolve the claim against them, which 3M agreed to do provided they didn't have to admit fault.
For the record, 3M has discontinued their Dual-Ended Combat Arms™ earplug line.
About that $9.1 million
None of it went to the injured soldiers. Not. One. Dime.
Filing a lawsuit against 3M for hearing damage sustained after using Dual-Ended Combat Arms™ earplugs

Because the government is not giving away its settlement money, soldiers are going to have to fight, once again, to uphold their rights. That's where the Rocky McElhaney Law Firm comes in: our Nashville product liability attorneys are accepting cases on behalf of veterans and civilian contractors whose hearing was damaged as a result of the defective earplugs. In order to be eligible for compensation, you must have:
Been issued a pair of these earplugs by the U.S. government or a branch of the U.S. armed forces between 2003 and 2015
Served in the military between 2003 and 2015
Worn the defective earplugs during your time in the service or while working with a U.S. military base or contingent
Sustained or developed any of the following types of hearing loss:

Partial loss in one or both ears
Total loss in one or both ears
Tinnitus in one or both ears
Auditory processing disorder (APD)
Note: Border Patrol agents were also issued these defective earplugs between 2003 and 2015. If you worked for Border Patrol during these times, you, too, may be eligible for compensation.
Can I file a lawsuit if I lost my hearing while serving, unrelated to the earplugs?
It depends. Tinnitus and hearing loss are the Top 2 VA disability claims, so you could be entitled to compensation through the VA. If, however, your hearing loss was related to something else, you may be able to make a claim. Call us for a consultation and tell us what happened. We can figure it out together.
Will a lawsuit against 3M affect my disability payments?
No, it won't. Even if the VA has already issued you a hearing aid, or some type of payment for your hearing damage, you can still file a lawsuit.
Do I have to join a class action?
That's up to you. There are a lot of people talking about class actions, but no class has been formed yet. So far, there's been one MDL (multi-district litigation) group formed to consolidate more than 600 claims, but you don't have to join it – and you don't have to join a class, either, if one forms. We can talk to you about your options during your free consultation.
Will it cost me money to file a lawsuit against 3M?
No, it will not cost you money to file a lawsuit against 3M. At Rocky McElhaney Law Firm, we take cases on contingency. That means we front the costs of the lawsuit, so you pay nothing. Once we win for you, we take our fees and expenses from your settlement or verdict.
In short? If you don't get paid, we don't get paid. And since it costs you nothing to meet with us and discuss your needs, there really is no obligation on your behalf.
Claiming damages for your hearing loss and hearing damage
When you file a product liability lawsuit, you can make a claim for the following damages:
Medical expenses
Loss of income and earning potential
Pain and suffering
Because 3M perpetrated an act of fraud against the government, you may be able to make a claim for punitive damages, as well.
If you sustained hearing loss because of 3M earplugs, get a Gladiator on your side
At Rocky McElhaney Law Firm, we are honored to fight for the men and women who were willing to fight for our country and our freedoms. If you live in Tennessee and/or were stationed in Fort Campbell, and you were deployed overseas to Iraq, Afghanistan, Syria, Somalia, Libya, or Yemen between 2003-2015, you may be entitled to compensation for any hearing loss you sustained while using 3M Dual-Ended Combat Arms™ earplugs. Please call 615-425-2500 or fill out our contact form, and schedule your free consultation with us in Nashville, Hendersonville, or Knoxville today.