Elderly Drivers and Traffic Safety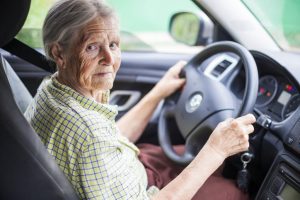 While older drivers have higher rates of fatal crashes based on the number of miles they drive than any other age group of drivers except young drivers, this is because of their physical frailty and not because they are unsafe drivers. The AAA Foundation for Traffic Safety reports that senior drivers are safe drivers when compared to other groups because they tend to wear their seat belts, they follow the speed limit and they do not tend to drink and drive. Americans are living longer, healthier lives.  Older drivers tend to recognize when their physical limitations are beginning to put their safety at risk, so they usually change their driving habits on their own. A person whose night vision is diminishing might stop driving at night, they may avoid the stress of driving during rush hour, when the weather is bad and they may avoid highway driving and routes with dangerous intersections.
The National Highway Transportation Safety Administration (NHTSA) reports that there were 40.1 million licensed drivers age 65 and older in 2015, and 6,165 people age 65 and older were killed and 240,000 were injured in traffic crashes. In 2016, American over age 65 accounted for 15.2 percent of the total U.S. population according to the U.S. Census Bureau.
The Insurance Institute for Highway Safety (IIHS) reports that there is a growing need to help older drivers sharpen their driving skills, and to recognize their changing abilities so that they can adapt their driving practices accordingly. There are many programs that are designed to address these needs, and we will look at them later in this blog post. Currently, only 19 states require older motorists to renew their driver's licenses more often than other residents of the state, and some states require older motorists to provide proof of adequate vision when they renew their licenses. Illinois is the only state that requires drivers over age 75 to take another road test when they renew their license, and the District of Columbia requires the approval of a doctor for drivers over age 70 to renew their licenses. In Tennessee, all drivers renew their license every five years with no special requirements for older drivers.
How to know when it is time for an older driver to give up their car keys?
Think about how you might feel if someone came to you after you got involved in a fender bender and said, "I think it's time for you to stop driving." You might protest vigorously. Driving gives us a huge sense of freedom and independence. If there is gas in the tank and you have the time, you can drive wherever you want to drive. You do not want to have to rely on someone to run you to Target, or to a doctor's appointment, and what about leisurely drives in the country?
It important to understand that it is not a person's age that increases their risk of causing a traffic accident, it is their physical and mental health conditions. One person could be 85 years old and have sharp reflexes and excellent vision, while another person's vision might be failing and their response time is lagging a bit. Here are few signs to watch for in older drivers that could be warning signs that it is time to assess their ability to drive safely according to esurance.com:
Driving too fast or too slow
Fender benders or close calls
Getting lost frequently, especially in familiar areas
Slow response time
Trouble turning their head to check for other cars
Problems staying in their own lane
Getting more moving violations than ever before
Before you decide to take mom's keys, you might suggest that she visit the doctor for a check-up, see what medications she is taking that might interfere with her ability to drive safely and a vision test. Sign dad up for a defensive driving course to brush up on his driving skills.
Remind the older driver in your life to not drive when they are tired, to keep a lookout for pedestrians, bicycles and motorcycles when moving through busy intersections. They should minimize distractions in the car, and to maintain a safe driving distance between their car and the car ahead of them. Keep to the right if they find they are driving much slower than the flow of traffic.
Driving assessment programs for older drivers before you take away the keys
Tennessee has published a free booklet with information about special programs for older drivers and alternative transportation options for seniors who have given up the keys.
At the Rocky McElhaney Law Firm, our Nashville car accident attorneys fight for you. If you have been involved in a car accident that was caused by the negligence of another driver, we are here to help. We invite you to call us today at 615-425-2500, or contact us to schedule your free consultation in our Nashville, Hendersonville, or Knoxville office.